I'm guessing this weekend many people will be focused on Mardi Gras, a time of celebration leading up to Ash Wednesday or the first day of Lent, which falls on March 9 this year. Some Christians give up meat or other favorite foods for the six weeks of Lent, so the Mardi Gras celebration represents the last chance to indulge in rich foods. Mardi Gras celebrations in the U.S. are commonly associated with New Orleans, and although many traditional New Orleans foods are associated with this holiday, no two foods symbolize Mardi Gras more than making King Cake and eating pancakes on Fat Tuesday.
King Cake is usually a sweetened yeast bread, made in the shape of a ring and decorated with Mardi Gras colors of green, gold, and purple. Baked into the cake is some kind of trinket, most often a plastic baby representing the Christ child. The person who gets the piece of cake with the baby is said to have good luck for the coming year, and they're responsible for baking the cake the following year.
Shrove Tuesday is the official name of the day before Ash Wednesday, but many people call it Pancake Day, and pancakes eaten on this day are often more like desserts, a final bit of decadent eating before Lent begins. Whether or not you care about all the symbolic meaning of Mardi Gras, baking a King Cake or making pancakes for Fat Tuesday can be a fun family activity. Here are some King Cake and pancake recipes that look like they'd be fun to try, plus a few other New Orleans foods to round out the menu.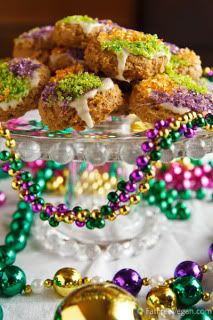 Photo of Gluten-Free King Cake Cookies
from Fat Free Vegan Kitchen
At Fat Free Vegan Kitchen, Susan shares the Gluten-Free King Cake Cookies that she baked for her book group. The cookies are the traditional New Orleans colors, and there are sprinkles!

Photo of Easy King Cake
from Baking Bites
One of the most colorful King Cakes I could imagine is this Easy King Cake from Baking Bites. Nic uses a challah-like bread, cream cheese filling, and colorful icing to create a festive cake.
A site that has an amazing collection of authentic New Orleans foods is Nola Cuisine, where the recipe for King Cake starts with a brioche dough, has pecan filling, and finishes with tri-colored sprinkles. While you're there, check out the section for most popular recipes, with New Orleans classics like Shrimp Etouffe, Muffuletta Sandwiches, Beignets, and Red Beans and Rice.

Photo of Gingerbread Pancakes for Shrove Tuesday
from Homesick Texan
Lisa from Homesick Texan always makes Gingerbread Pancakes every year to celebrate Shrove Tuesday, and they do look pretty amazing.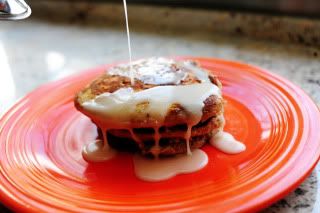 Photo of Cinnamon Bun Pancakes
from The Pioneer Woman Cooks
Ree from The Pioneer Woman Cooks assures her readers that during Mardi Gras you can eat all you want and you won't gain an ounce, so why not splurge on these Cinnamon Bun Pancakes for Pancake Day?
More Ideas for King Cake:
Vegan King Cake ~ from Cake Maker to the Stars
Ooey Gooey Warm King Cake ~ from What We're Eating
Mardi Gras King Cake with Cream Cheese Filling ~ from A Life Less Sweet
Chocolate Ganache King Cake Rolls ~ from Mama Hen's Kitchen
King Cakes of Mardi Gras ~ from Saveur.com
More Foods from New Orleans:
Try Some New Orleans Foods ~ from BlogHer
Gumbo for Mardi Gras ~ from Eat Like a Girl
Chicken and Smoked Sausage Gumbo and Making Roux in a Microwave ~ from Salad in a Jar
Barbecue Shrimp by Ralph Brennan ~ from Homesick Texan
Red Beans and Rice ~ from Blue Kitchen
Are you making anything special for Mardi Gras or Fat Tuesday? If so, please share your recipe link or tell us about it in the comments.
(Every week on BlogHer, we spotlight five recipes with a common theme for a feature called Weekend Menu Planning, hoping one of them might make it onto the menu at your house. You can find previous recipes shared by checking the Weekend Menu Planning Archives or clicking the tag Weekend Menu Planning.)
Kalyn Denny also blogs at Kalyn's Kitchen, where she's focused on creating low-glycemic recipes using fresh ingredients. Kalyn has been to New Orleans many times, and loves to make foods from there like CrockPot Louisiana Red Beans and Rice and Quick and Easy Spicy Broiled Shrimp.
This is an article written by a member of the SheKnows Community. The SheKnows editorial team has not edited, vetted or endorsed the content of this post.
Want to join our amazing community and share your own story? Sign up here.