I'm hoping you've noticed our month-long message about National Barbecue Month! I've been trying to entice you to cook something on the grill, and so far we've featured grilled chicken and fish, grilled pizza, and vegetables on the grill. But now we're heading into a big holiday grilling weekend for the U.S. and nothing says summer holidays like burgers on the grill.
Besides the obvious appeal of food you can eat with your hands, maybe one reason burgers are so popular is that there's a burger variation for every type of eating preference! Whether you'd like beef, fancy burgers with unusual additions, other meats, turkey, portobello or vegetarian burger options, we've got you covered. Which one of these burger recipes looks like something that would be right at home on your barbecue grill?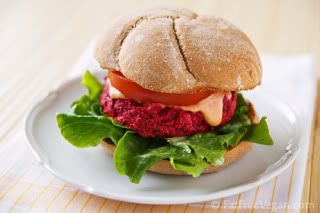 Photo of Roasted Beet-Tofu Burgers
from Fat Free Vegan Kitchen
Let's start with burgers that are meatless, where the options are endless. One of the prettiest vegetarian burgers I found was these Roasted Beet-Tofu Burgers from Fat Free Vegan Kitchen.
More Drool-Worthy Vegetarian Burgers
Sarina's Vegetarian "Krabby Patty" Burgers from Trini Gourmet
Black Bean Burgers from Rookie Cookie
Mighty Good Veggie Burgers from Cheap Healthy Good
Chickpea and Brown Rice Veggie Burgers from Randomosity and the Girl

Photo of Perfect Cooked-from-Frozen Burger
from The Perfect Pantry
Burgers with beef never go out of style, and at The Perfect Pantry Lydia learns How to Cook a Frozen Burger and discovers it does make a difference.
More Burgers with Beef and Burger Grilling Tips
Ten Tips for Better Burgers from Kitchen Parade
How to Make a Great Hamburger from Baking Bites
Hamburger Technique from Michael Ruhlman
Tips for a Perfect Burger from Spork or Foon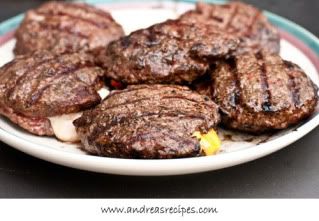 Photo of Stuffed Burgers
from Andrea Meyers
One way to create a little burger excitement is to make burgers with beef and then add something special to the mix, like these Stuffed Burgers from Andrea Meyers.
More Beef Burgers with a Twist:
The Southwest Burger from Food Blogga
Cheddar Ranch Burgers from Heavenly Homemakers
Grilled Mushroom Burgers from $5 Dinners
Blue Cheese Burgers from Pinch My Salt

Photo of Mini Lamb Burgers with Feta and Tzatziki
from Dinner with Julie
You can also switch things up by making burgers with meat other than beef, like these Mini Lamb Burgers with Feta and Tzatziki from Dinner with Julie.
More Meat Burgers without the Beef
Chipotle Pork and Turkey Burgers from What We're Eating
The Best Ground Lamb Burgers from A Mingling of Tastes
Steph's Orgasmic Lamb Burger Recipe from Wasabimon
Danish Pork Burgers from Simply Recipes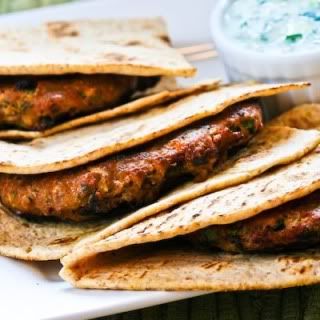 Photo of Grilled Middle Eastern Turkey Burgers
from Kalyn's Kitchen
Finally, sometime turkey burgers can't get any respect, but when I made these Grilled Middle Eastern Turkey Burgers, they were a huge hit.
More Completely-Not-Boring Turkey Burgers
Spicy Turkey Burgers from Blue Kitchen
Teriyaki Turkey Burgers from Seriously Good
Turkey Burgers from The Way the Cookie Crumbles
Japapeno Cheddar Turkey Burgers from Life's Ambrosia
(Every week on BlogHer, we spotlight recipes with a common theme for a feature called Weekend Menu Planning, hoping one of them might make it onto the menu at your house. You can find previous recipes shared by clicking the tag Weekend Menu Planning.)
Kalyn Denny also blogs at Kalyn's Kitchen where she's focused on creating low-glycemic recipes using fresh ingredients.
This is an article written by a member of the SheKnows Community. The SheKnows editorial team has not edited, vetted or endorsed the content of this post.
Want to join our amazing community and share your own story? Sign up here.