Well now, as the harvest season winds down, I feel we should discuss the terrible truth that this is the also the time of year when zucchinis invade the Earth. Swarms of them everywhere can generate lame jokes, almost pathological muffin-making, and excessive politeness—all often leading to permanent lifelong trauma. For instance, I speak from painful experience when I warn you to never, ever tell someone that her zucchini bread was really good—when it was in fact Ok, but not really your thing—because odds are good that very soon your clearly demented hostess will be gratefully shoving several loaves of it into your departing hands, which you will consequently try to eat out of guilt, until you finally throw the rest away, while thinking about starving children and contemplating your general worthlessness….
So you have to be careful, especially on that fateful day when you enter that homemaker's twilight zone where creeping insanity makes you begin to imagine that there are so many unwanted, possibly traumatized squash out there behind the garden gate that they might actually come for you in the middle of the night. This is the time to make the following casserole in vast quantities, and then freeze it in foil packets for a real taste treat in the depths of winter.
This dish—glorious in it's classic simplicity—goes with just about anything. In my cookbook I pair it with Stuffed Flounder, but last Sunday night I put it next to some Chicken Parmesan with a chunk of French Bread on the side. Then on Monday night I took the leftovers and put them under some real nice cheese on  top of my pizza dough. It's also one of those dishes like ratatouille that tastes good cold, making it a swell thing to enhance a twilight picnic.
And normally, at this point, I would say something to the effect that substitution of frozen or canned ingredients might produce an acceptable shadow of this dish's splendid self, but I'm afraid in this case it's decidedly not so! No, it's now or never for this one; so if a subtle blend of some of the fall garden's best flavors sounds tasty to you, try to find the time to stop in at the farmer's market before it's too late....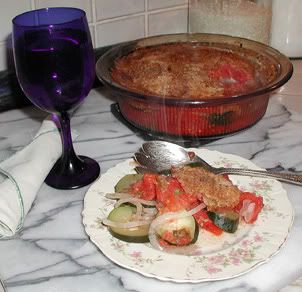 Zucchini and Tomato Casserole
2 medium zucchini
1 large onion, preferably sweet
4 medium tomatoes
up to ½ teaspoon salt and black pepper
up to 1 teaspoon dried oregano and/or basil
1 cup crumbled day-old bread
2 tablespoons butter
Peel and remove the seeds from the tomatoes—slicing them 1/4 inch thick.  Slice the zucchini about 1/8 inch thick, and the onion as thinly as you can; and the key word here is thin, because if your squash is too thick, it won't be tender before the bread crumbs have gone over to the dark side....
Starting with half of the zucchini, then the onion, and finally the tomatoes, make layers in a large baking dish—sprinkling each layer with a bit of the salt, pepper, and oregano/basil. Be sparing with the seasonings, since of course when cooking, too much is often worse than too little; and if you're so fortunate as to have access to fresh herbs, double the quantities and prepare for a major veggie experience.
Cover the top layer of tomatoes completely with the bread crumbs and then dot with the butter—meaning to cut it into very small pieces and place them at intervals all over the top; and if you're watching those calories, you can just leave the butter out without much loss of flavor. I myself go back and forth on this depending both upon my mood, as well as the fat content of the rest of the menu.
Preheat the oven to 350 degrees, and then bake your casserole, uncovered, for about 40 minutes until it's bubbling, the zucchini tests tender with a fork, and the crumbs are browned.
While those wishing to download my cookbook for free might care to click here, where if you're also hungry for entertainment, you might like to sample some of my fiction as well.
Enjoy!
This is an article written by a member of the SheKnows Community. The SheKnows editorial team has not edited, vetted or endorsed the content of this post.
Want to join our amazing community and share your own story? Sign up here.