Now if you ask me, this is the sort of classic dish that no two people make quite the same. In contrast to the more precise chemistry of baking, with a thing like pasta sauce the individual has more leeway—making it a terrific opportunity for those wishing to become more creative in the kitchen. Once you learn to play with pasta, the door is open to personalizing a lot of other dishes as well, which in so many ways becomes the payoff for stepping into the intimidating waters of the kitchen in the first place.
For instance, if you don't care for meatballs, you might instead top your sauced pasta with some shrimp sautéed in olive oil, or grill up a bit of designer sausage or marinated chicken—maybe crumble up some bacon; or you could even simply fry up the ground beef, throw it in with the simmering veggies, and then you have meat sauce….
You get the picture, I'm sure.
Plus, pasta sauce is one of those wonderful dishes that can freeze and be just as good the second time around. Suppose you arrive home only to discover that your best friend is bringing the ambassador from Zuria over for dinner in thirty minutes: if you've got a frozen vat of this recipe and a bakery next door, you're home free.
Ideally of course, you'll have plenty of time to actually bake something like French bread or dinner rolls yourself, since it's generally agreed that a long, slow simmer of spaghetti sauce is preferable for smooth and tasty blending of flavors. However, during the rising of the bread and simultaneous simmering you'll have about an hour where you merely need to stir that  sauce from time to time; and the only thing you absolutely must do at the last minute is cook the spaghetti—making this is a fine thing to have perfuming your home whenever a friend finally arrives on a cold winter evening, and so quantities here are for two.
Also, should you wish to vary or extend this menu with a green salad, it's a simple matter to correspondingly omit the sliced vegetables in the sauce; while for that matter, I might even skip the pasta and go for the salad on a plate next to a meatball sub. Then, in a day or two, I might put the leftover meatballs and sauce under some real good cheese on a pizza....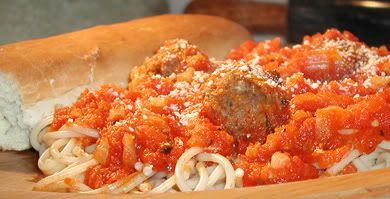 Veggie Sauce
2 tablespoons olive oil
2 cloves minced garlic
2 cups sliced vegetables
6 cups fresh = 2 large cans tomatoes
¼ teaspoon salt
¼ teaspoon black or crushed red pepper
1 teaspoon chopped fresh = ½ teaspoon dried basil
The vegetables literally can be anything you like in endless combination, but I advise beginners to choose at least two of the following: any kind of onions, mushrooms, green or red sweet peppers, celery, carrots, or zucchini.
Whatever you use, slice them according to their density.
For example, mushrooms have so much water in them that one needs to slice them thickly, or in half, because they'll really reduce in size as they cook. Ditto the zucchini; but on the other hand, the onions, peppers, celery, and carrots are pretty heavy-duty vegetables that should be sliced very thin.
Ideally of course you should be using the freshest of plum tomatoes, hand-picked by colorful villagers from the sunny slopes of Italy, which is why those who truly love pasta should try to make a vat of this sauce when the last of the produce hits the farmer's market in the fall—freezing some for a major wintertime treat.
Coat the bottom of a large saucepan with the olive oil—being sure it's big enough to accommodate not only the sauce, but also eventually the meatballs.
Place over medium heat and fry the garlic until it just begins to brown.
Add the vegetables, stirring constantly, for about 5 minutes until their color brightens, but don't let them get too soft, since they'll soften some more and reduce in size as everything simmers.
Add the tomatoes.
Add the salt, pepper, and basil; and you can always throw in some other seasonings as well to make things more interesting—usually dependent upon what you plan to put into the meatballs—like 1 teaspoon chopped fresh = ½ teaspoon dried oregano, or perhaps 1 teaspoon fresh = ¼ teaspoon dried thyme.
Tip for beginners: when playing around in the kitchen, please remember that too little is frequently better than too much when striving for the delicate balance of cuisine. If any single ingredient shouts out at you from the mixture, that's a danger signal. Just like Chopin tossing off a nocturne, if you're really good, nobody should be able to tell just exactly what's in there….
Cover your sauce and bring it to a slow boil over medium heat. Then lower the heat and simmer, stirring occasionally, for up to 2 hours, or even much longer if you wish. Theoretically it only improves with time as the flavors blend, while one must be careful not to turn the stove so low that it stops bubbling entirely.
Conversely, should you be in a hurry, leave the heat on medium and stir it more frequently; but watch it, since of course the thicker it gets, the more likely those veggies will settle to the bottom and burn unless you keep it moving.
Meatballs
1/4 pound ground beef
1/4 pound ground pork
1 egg
½ cup fresh breadcrumbs
¼ cup grated Parmesan or Romano cheese
¼ cup optional minced onion
½ teaspoon salt
¼ teaspoon black pepper
1 teaspoon dried oregano and/or ½ teaspoon dried thyme
Now not everyone can routinely find ground pork in their neighborhood groceteria, so feel free to just use all ground beef for equally tasty results.
Beginner tip: the misleading phrase fresh breadcrumbs is in fact meant to imply not dried or toasted, while actually meaning that you should pulverize some bread left over from yesterday, which further implies that you had some left over in the first place. The best thing to do when short on crumbs is to buy some high-end bread that's on sale because it's about to expire and then proceed to pulverize; while whatever loaf you choose should have a flavor compatible with your meal. For instance, in this case, something like whole wheat with honey might be pushing the culinary envelope.
Mix all ingredients well in a large bowl with a fork, spoon, or your hands; and you might as well use your hands and get it over with, because not only is it the best method for total fusion of ingredients, but you can't avoid getting slimed anyway in the next step.
Divide the mixture into approximately 10 balls—shaped by gently rolling them between your hands.
Bake them in a foil-lined baking pan in a 400 degree oven for about 20 minutes, or fry in a non-stick pan on a burner until nicely browned.
Add them to the simmering sauce.
Spaghetti
You'll need approximately 8 oz. of dry spaghetti to feed two people; although any type of pasta can of course be substituted simply by referring to the instructions on the packaging for timing. However, I feel that certain types do seem to work especially well in this case, such as spirals, vermicelli, and those little ones shaped like vacuum cleaners.
Bring a large, covered kettle with at least 2 quarts = 8 cups of water in it to a rolling boil over high heat; and while people argue about how much water you actually need to use, the main thing is to use the largest pot you have—filled about ¾ full with water. If it's too small you're going to have a major boil-over problem. You can add a few drops of oil to help prevent both this and the pasta sticking together, but I confess to almost never doing it.
You can also throw in about ½ teaspoon salt if you like, but the only reason I'm telling you about it is because most recipes have it in there. I myself leave it out, since I'm always looking for ways to cut out salt without sacrificing flavor.
Stand your spaghetti on end in the boiling water, and stir it down as it softens; and if your pot's especially small, it might be helpful to first break those noodles in half.
Cover the pot only until the water's bubbling again.
Uncover, stir, and time according to package directions.
Pour your pasta carefully into a colander in the sink to drain—watching out for the steam—and at this point chefs debate: to rinse or not to rinse? Some feel that removing the starch also removes the ability of the sauce to bind to the pasta, but I nevertheless rinse it quickly with very hot water, which to me gives it a cleaner taste. I must admit, though, that I do it while in the throes of self-doubt….
This burning issue I leave in your lap.
While those wishing to download my cookbook for free might care to click here, where if you're also hungry for entertainment, you might like to sample some of my fiction as well.
Enjoy!
This is an article written by a member of the SheKnows Community. The SheKnows editorial team has not edited, vetted or endorsed the content of this post.
Want to join our amazing community and share your own story? Sign up here.