This article was written by a member of the SheKnows Community. It has not been edited, vetted or reviewed by our editorial staff, and any opinions expressed herein are the writer's own.
Sandwiches rule at least half the western world by now, and as we all know—while the filling is the star—it would be nothing without the staff of life that surrounds it; and so, I give you my version of the humble sandwich roll.
Now I know that some of you may have been led to believe that whipping up bread is some sort of difficult, time-consuming task—the mysteries of which are only fathomable to the privileged and trained—but I'm here to remind you that, until recently, your average homemaker cranked out bread on nearly a daily basis, and you can surely find the time and energy to do it too once in a while—enhancing both your health and lifestyle.
For instance, I'm a semi-disabled piano teacher who came home after work the other night and doubled this recipe so I could take all these pictures, and although I've been baking about three times a week for thirty-five years and own a mixer with a dough hook, still….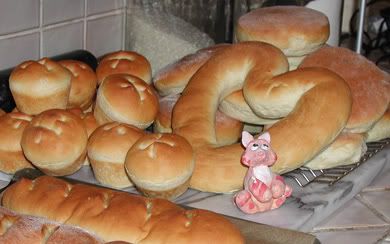 You can do it!
You're going to love it too, because even if you're standing outside the bakery at dawn, you can nevertheless only come close to the experience of hot, fresh, baked bread that's just come out of the oven….
Plus, if there are certain people lingering about sniffing the air, this is a good time to hit them up for a favor. Children will become blessedly compliant, while you'll find that just the smell of the stuff baking will enlighten everyone's atmosphere.
Life is good….
Now technically, almost any bread dough can be made into a roll, but when it comes to something like a burger bun or a Chicken Parmesan submarine, my family usually imagines a fairly soft and rich encasement like this one, which is similar to a breakfast Cinnamon Roll, but easier on the sugar and fat. If you want an even lighter result, you might wish to mix up something like a  French Bread dough instead.
Then, after it's been punched down, you can usually shape it almost any way you wish; and while this particular recipe's great for sandwiches, it's also swell for making the aforementioned subs, or perhaps dinner rolls meant to enhance something like Spaghetti and Meat Balls. The main thing when making any roll, of course, is that they be uniform for even baking, and then you can be as creative as you like. For instance, when serving them next to some sort of fork food, I often shape mine like the Statue of Liberty—or perhaps the state of Maryland.
Rockin' Rolls
¼ cup warm water
2 tablespoons sugar
1 tablespoon dry yeast
¾ cup warm milk
1 teaspoon salt
¼ cup softened butter or shortening
1 egg
3 to 4 cups bread flour
If you can't get or afford bread flour, unbleached white flour will provide more than adequate results. You can even throw in some whole wheat flour during the second addition if you want to, but you're going to cut down on the soft-and-squishy factor if you do.
Dissolve the sugar in the water and sprinkle on the yeast; while the phrase very warm in this case means approximately 110 degrees, but in practical terms: if you wouldn't want to swim in it, neither will the yeast.
Wait about 10 minutes for it to proof—where your dried and dormant yeast now comes to life, eats the sugar, and starts to reproduce at terrific rate—rising to the top in the form of big foamy blobs that will soon come for you, puny human, should you be so foolish as to turn your back on them….
Add the milk, salt, butter, egg, and 1½ cups flour. Beat with a fork, wooden spoon, or the dough hook of a heavy-duty mixer on low speed until smooth and elastic. About 3 minutes ought to do it.
Continue adding flour until the dough holds its shape—meaning a fairly cohesive lump. It's going to be a bit sticky, and will take on some more flour as you handle it, while those who've chosen to throw in some whole wheat should remember not use it for kneading.
Knead it on a well-floured surface for 5 to 10 minutes until it forms a smooth ball, and beginners seeking detailed instruction in kneading technique can hopefully find it in my book. Eventually a matter of personal style, I begin by pushing into the center of the dough with the heel of my left hand—immediately followed by using the other to fold the upper right-hand corner of the dough down and in toward the center, while rotating it slightly counter-clockwise—over and over and over again, until it turns into a cohesive ball—the gluten fibers having developed enough elasticity that the carbon dioxide released by the yeast will now be able to inflate this unappetizing lump of wet flour into an incredible, edible balloon.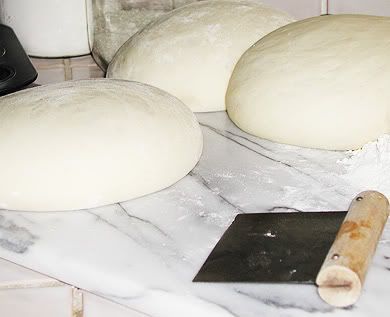 It's really quite amazing.
Let your dough rise until doubled—the timing of which depends upon atmospheric conditions, so start early if you decide to whip these up in the dead of winter. This is a fairly heavy dough, so it'll probably take at least an hour; and if your kitchen's cold, put it into a bowl, cover it with a warm, damp towel, and put it in a cozy place—and not a barely warm, turned-off oven either, which might at first seem like a good idea….
No, if you have a roommate, they'll turn the oven on—cluelessly unaware—while you've merely stepped outside for a moment; or  perhaps you'll just be delayed by something, as your dough rises over the top and creates one of the biggest messes you've ever seen. On the other hand, if it erupts onto a countertop, you really can just knead even the most intimidating of amorphous blobs back into the nice little ball you left behind.
Rising time and the lightness of dough is also dependent upon the amount of flour you end up using when you knead. If you have a great surface like my precious marble slab and a practiced hand, you'll use less and have an additionally lighter roll.
Grease your baking sheet with butter or shortening, or deploy the miracle of parchment paper for better browning and easy clean-up.
Punch down your dough, knead out the air, and proceed as follows.
For burger buns: roll it out on a lightly floured surface to about 3/4-inch thick. Cut approximately 4-inch circles—trying not to twist the cutter for a better rise. I use an English muffin ring to cut mine; but if you don't have anything to cut with, you can divide the dough into 12 pieces, roll them into little balls, and flatten them by hand or with a rolling pin.
Who cares if they're perfectly round? Believe me, they won't be on the plate long enough for anybody to notice. Ditto the subs that follow.
For sub rolls: divide the dough into four pieces. Knead them into separate balls and then gently roll them on the board under your hands into l0-inch loaves; and the key word here is gently, because if you tear it you're going to damage your little bread balloon. Cutting a few 1-inch slashes along the top helps them rise in a traditional fashion and look as pretty as the picture.
For dinner rolls: divide the dough into 12 pieces and roll them between your hands into little balls. Place them into a muffin pan that's been lightly greased with butter or shortening; and I learned the hard way that you should probably do this even if your pan appears to have a high-tech non-stick surface, just to be on the safe side. Snip the tops of your rolls twice into a cross pattern if you like.
And at this point, in pursuit of the kind of happiness you see pictured here, I often brush my breads with egg white, in order to sprinkle them with some sort of seed.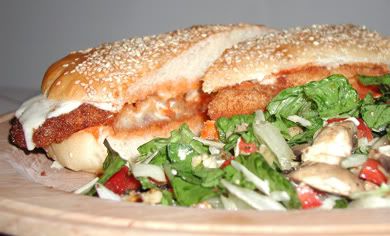 Let them rise until doubled and light.
Bake in a preheated 375 degree oven for 15 minutes until golden brown.
Of course, after those buns are out of the oven and have cooled completely you can store –even freeze—them in plastic bags; but if there's four average humans or two young men at your table, there probably won't be any left.
While those wishing to download my cookbook for free might care to click here, where if you're also hungry for entertainment, you might like to sample some of my fiction as well.
Enjoy!