When I was first married, I pestered my mother-in-law until she unearthed this forgotten favorite from my husband's childhood, which he recalls her clipping from a newspaper; and if you're intimidated by the idea of baking biscuits, you can always use the perfectly adequate canned dough that can be found hibernating inside cardboard tubes in the refrigerated section of your groceteria like she did. Also—in a similar vein—this recipe is a lot easier for the beginner than frying chicken on top of the stove, and I hope you'll agree that the peaches add an interesting and delicious touch.
Now back then we had to deal with added fat and still-encrusted bakeware, but by now most cooks finally have nifty high-tech non-stick pans, and so I get to cut a lot of the shortening out of this old recipe, and you can achieve essentially the same results—while also saving in a big way on clean-up—by lining older pans with aluminum foil. Then—if you're especially concerned about fat intake—you could theoretically go even further by using skinless chicken, but you'll need to cover it with foil as well, and may still have a problem with it drying out, while you'll definitely have a problem with the lack of drippings for the gravy.
You could actually skip the gravy entirely of course, but opinion in many households will be that there's absolutely no point to biscuits without gravy. I know my family would most certainly look at me as though creeping insanity had finally taken its toll….
Plus, of course, there are the biscuits themselves, which are also all about shortening; but what can I say, except that old-fashioned taste requires old-fashioned ingredients? I usually put some simply steamed green beans or broccoli next to this as well—to provide my idea of culinary and nutritional balance to this otherwise fairly heavy menu—but would never add butter or salt to them, despite what was fairly routine when I was young. No, just like when I whip up breaded fried chicken and rely on the sauce for flavor, I feel that adding anything to a steamed veggie that's about to go on the plate with something like this highly seasoned chicken gravy is really more of an opportunity for flavors to clash than compliment.
Ready in about two hours, this is a hearty chill-in-the-air meal that serves four, but it may not be a good thing to fix for a dinner party, since it'll require a fairly constant presence in the kitchen.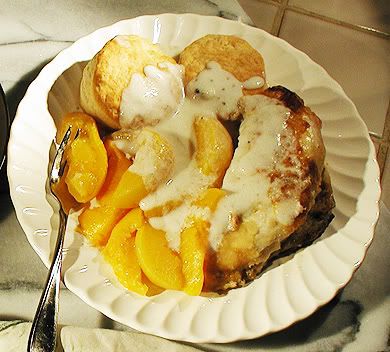 Sequence of Events
Preheat the oven to 375 degrees while preparing the chicken for baking.
Once the bird's underway, prepare the biscuits; and if one's planning to steam a vegetable, now would also be the time for slicing and/or dicing.
After about an hour, take the chicken out to acquire drippings for gravy-making, arrange the peaches on top, and then bake 15 minutes more.
Remove your finished dish from the oven, and raise the temperature to 450 degrees in anticipation of biscuit-baking. Loosely cover the pan with aluminum foil to keep it all warm while you bake the biscuits. Afterwards you might re-use this relatively clean piece of foil to wrap up leftovers, although there probably won't be any. More likely—if there's enough hungry kids at the table—you'll be called upon to fairly divide the last biscuit.
Start the making gravy as the oven heats up, while now would also be the time to start steaming your veggie.
When the temperature hits 450, put the biscuits in; and then call in the company while those flaky delights are baking, because you want everyone seated when they come out of the oven and you whisk everything to the table, since this kind of chow has a particularly narrow window of perfection.
Oven-fried Chicken with Peaches
about 3 pounds split chicken breasts = 4 pieces
up to ¼ cup shortening—optional, depending upon your pan
1 cup flour
1 teaspoon salt
1 teaspoon poultry seasoning or ¼ teaspoon each black pepper, sage, and thyme + pinches of marjoram and nutmeg
1 large or 2 small cans peaches
Now, if you're on a really tight budget or don't cook very often, and therefore don't want to pay for pricey seasonings that you may never use up, it'll still taste good—just not as interesting—with only salt and pepper.
Preheat the oven to 375 degrees.
Coat a 13" x 9" x 2" pan well with the shortening; and at this point, if your pan's truly non-stick or lined with foil, I recommend brushing just the bottom with a light layer of shortening in order to give your finished dish a hint of that old-fashioned fried-chicken flavor you so crave.
Wash the chicken pieces well under cold water.
Put the flour, salt, and seasonings into a plastic bag. Close it tightly and shake it to mix things together.
Add the chicken pieces to the bag one at a time. Shake to coat them with the flour mixture. Then place them skin side down in your pan. Save the extra flour mixture to thicken and season the gravy.
Bake uncovered, in the center of the oven, for about 50 minutes.
Remove your pan from the oven, tip it a little so that the drippings run down into one corner, and carefully spoon out ¼ cup for the gravy.
Turn the chicken pieces over, drain the liquid off the peaches, and lay them all over the chicken. Return everything to the oven for 15 minutes.
And then, as you may recall, when this dish is finished it's best to cover it with foil to keep it warm. However, if you plan to take it to the table, put it on a platter before you cover it, so that nothing slows you down when the biscuits come out….
Gravy
2 cups milk
¼ cup seasoned flour, reserved from coating the chicken
¼ cup drippings, removed from baking pan
I use 2% milk, but really any kind will do; and if I don't have quite enough, I just use water for the rest of the liquid. Those having a problem with milk can make this gravy with chicken broth or entirely with water, but it won't be the especially creamy gravy you may picture poured over fried chicken; while if you're new to gravy-making technique, there's a fairly detailed discussion of it in my book.
Over medium-low heat, mix the flour into your reserved drippings in a roomy saucepan.
Gradually whisk in the milk, and bring your gravy to a slow boil for about 3 minutes—stirring constantly until thickened.
Keep it warm over low heat while the biscuits bake, and make sure that it's the last thing you put on the table.
Biscuits
Well of course I have a pile of recipes for biscuits, and no two are the same. They all start with the same amount of flour, but the amounts of salt, shortening or butter, milk, and baking powder all vary. Some have sugar and some don't. Some are a million years old, and some are quite new and theoretically improved….
So over the years I've tried quite a few, and here's what I eventually settled on as a rule. Then in the summer, when the fruit is fresh, one makes their biscuit a bit richer and sweeter and calls it shortcake.
Please don't ask me why.
2 cups all-purpose flour
¾ teaspoon salt
2 teaspoons sugar
1 tablespoon baking powder
½ cup shortening
2/3 cup milk
Preheat oven to 450 degrees.
Sift together the flour, salt, sugar, and baking powder into a medium bowl. If you don't own a sifter, just mix your ingredients really well with a fork, but serious bakers should try to lay their hands on one. For instance, if you notice that your finished products seem plagued by little brown spots, it might be because the baking powder's not evenly distributed.
Cut in the shortening with a pastry cutter until this mixture—so many of my books say—resembles cornmeal, which assumes that everyone knows what cornmeal looks like, which they don't. For that matter, I don't even think it resembles cornmeal. Well, those authors probably use this marginal example—as well as the equally inadequate comparison to coarse crumbs—because they can't think of a better one, and unfortunately neither can I….
Tip for beginners: a pastry cutter's a tool you ought to own if you love biscuits and pie crust because it's cheap and—for this purpose—practically indispensable. It has a straight handle the width of your hand, with several U-shaped wires suspended from it that make short work of fat incorporation. Otherwise, you have to use two table-knives—rubbing them together as you cut into the flour and shortening to blend them together into tiny balls of flour-encased fat—a process that works even better if whatever fat you're using is nicely chilled.
Prepare a large floured surface for kneading and rolling. Traditionally I was taught to cover both the rolling surface and the rolling pin with a cloth to achieve the least additional flour; but I confess to being far too lazy to do this, and simply rolled the dough out on my floured bread-board most of the time. Then I traded up to a high-tech countertop, while just lately providence has sent me my precious marble slab that almost refuses to stick to anything.
I've also had a swell black marble rolling pin for years. Before that I had this big white ceramic pin that I inherited from Aunt Phoebe, who used it every day to crank out piles of pie for the farmhands before dawn….
If you don't own a rolling pin you can pat this dough out with your hands, or perhaps roll it out with a broom handle; but if you intend to move on to pie crust, you'll have to invest.
Make a well in the center of the flour mixture by pushing it up the sides of the bowl. You want to almost see the bottom, so that when the liquid goes in a lot of the flour falls in on it from the sides, making for swift and even mixing.
 Pour in the milk all at once—combining everything as quickly as possible with a fork. It should come together pretty fast into a ball that's just slightly sticky to the touch. Classic technique calls for working the dough as little as possible because it's got to be completely and evenly blended, but you don't want a lot of gluten developing that ball into your classic rubber biscuit.
Turn the dough out onto the floured surface and knead lightly for about 30 seconds. Although you employ basically the same push-and-turn technique used for working with something like pizza dough, you only want to assure that it's fairly uniform, so you can roll it out. It's not going to look as smooth as bread dough and will tend to stickiness; and this is where a swift and skillful touch really pays off, because the less extra flour you're forced to use, the lighter your finished product will be.
Roll it out to about ½ inch thick. You'll have to turn it over at least once to get it to turn out evenly, while you keep everything lightly floured to prevent sticking.
Dip a 2-inch round biscuit cutter into flour and then cut circles straight down into the dough. Don't twist the cutter, which will create an edge that doesn't want to rise. Then you reknead and reroll the scraps of dough, and each time you do so you'll be adding flour and reducing quality, so try to space your cuts as closely as possible.
Place your biscuits slightly apart on an ungreased baking sheet.
Pop them into the oven for about 10 minutes until golden brown.
While those wishing to download my cookbook for free might care to click here, where if you're also hungry for entertainment, you might like to sample some of my fiction as well.
Enjoy!
This is an article written by a member of the SheKnows Community. The SheKnows editorial team has not edited, vetted or endorsed the content of this post.
Want to join our amazing community and share your own story? Sign up here.