This article was written by a member of the SheKnows Community. It has not been edited, vetted or reviewed by our editorial staff, and any opinions expressed herein are the writer's own.
Question: what did yours truly and the late Princess Diana of Wales have in common? Well, aside from beauty, charm, and modesty we're both celebrated in our intimate circles for our Macaroni and Cheese recipe. No doubt she used it frequently to soften someone up before attempting to further her political agenda  at some cheesy aristocratic hot-dish suppers, and maybe she got so good at it because it was her favorite dish, or perhaps she learned it on a lark because it's so easy, while there's even an outside chance that it happened—like it did to me—while attempting to get calcium into kids reluctant to drink milk.
The world will never know….
Or maybe it will.
Anyway, how long this meal takes to throw together depends on what you intend to serve with it, which for me usually means baking some French bread or some dinner rolls. Then I'm prone to put it all on a plate next to some sort of steamed veggie like broccoli or green beans, and this entire scenario keeps me in the kitchen for about three hours; but if your bread comes from the freezer, the bakery, or the groceteria, you can knock it all off in less than two.
You can make the applesauce—which requires an hour start to finish—way ahead of time. It really must cool down to room temperature before you serve it, and even tastes good when slightly chilled, so making it first and early in the day might be preferable if you have the time. Plus, it can be refrigerated for days, and frozen for weeks.
Trust me, once you've forced yourself to stand over the sink and peel all those apples you'll understand why people do it. Start with really fresh fruit, and you're home free, while those on a budget should remember that bruised fruit which has been marked down at the farmer's market simply because somebody dropped it will work just fine in this case.
Quantities here are for four; and one of the best things about macaroni and cheese is that it can stay on hold in a slow oven for some time without too much damage, so it's a great meal for a night when you're waiting for someone to make it through a blizzard and show up hungry. Start steaming your veggie as soon as they get their coat off, and by the time they finish their inevitable weather and traffic report, your meal will be ready.
Plus, you can freeze leftover macaroni and cheese in little foil packets that can be warmed up in a 350 degree oven for about 30 minutes—great things to have around for kids when the adults crave something a bit more sophisticated, or for nights when you drag yourself home from work reluctant to face the kitchen.
Make a vat of this stuff on Sunday, and you can basically take Thursday night off….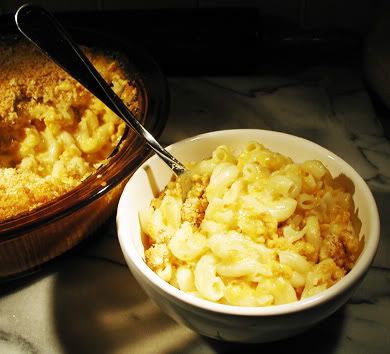 Macaroni and Cheese
Now for maximum efficiency in this case, one should begin by precooking the sturdy macaroni, which of course needs to be softened up a bit first to be ready for the task at hand. Meanwhile, you stand over the sultry cheese sauce, which needs especially careful handling to be brought to a slow boil. Soon the two of them will be united in blissful union in a 1½ quart baking dish—or larger—because it's going to bubble up a bit in there as it bakes, so don't try to get by with a dish that's filled right up to the top.
If you don't own this size casserole, you can really bake macaroni and cheese in any kind of pan, and if it isn't truly non-stick you'll save yourself a lot of trouble by lining it with aluminum foil.
Also, those new to pasta cooking may wish to obtain further enlightenment from the helpful hints section of my book; but the main thing to remember here is that even simple elbows come in a wide variety of sizes, so cooking time will vary. Occasionally my daughter, or I—or possibly Princess Di—have been known to make this dish with some other kind of pasta just for fun: like maybe spirals, or the ones that look like little vacuum cleaners.
8 ounces, dry elbow macaroni
2 tablespoons butter
2 tablespoons flour
2 cups milk
¾ pound sharp cheddar cheese, cut into small pieces
1 cup fresh bread crumbs
Put 8 cups of water into your largest saucepan and bring to a rolling boil over medium-high heat.
Stir in the macaroni, cover, and return to a boil.
Remove the cover, simmer and time according to package directions minus a couple of minutes, because it will of course soon be finishing up in the oven. Therefore one must cook, stirring occasionally, until just tender.
Drain your pasta into a colander, rinse it quickly under hot water, and return it to the still-warm saucepan to await the cheese sauce.
Cheese Sauce
Melt the butter over low heat in a medium saucepan.
Blend the flour into the butter with a wire whisk, scrapping the bottom and sides with a heatproof rubber spatula—something that I couldn't survive a day in the kitchen without.
Add the milk, gradually, whisking until smooth.
Turn up the heat to medium and cook—whisking or scraping the sides of the pan constantly—until it just begins to bubble. Don't let it boil.
Turn the heat as low as it will go, and whisk in the cheese until melted.
Final Assembly
Preheat the oven to 350 degrees.
Combine the macaroni and the cheese sauce in the pan you used for the pasta, and then pour it all into the baking dish.
Cover the top completely with fresh breadcrumbs.
Tip for beginners: fresh bread crumbs is an ambiguous phrase meaning not dry or toasted, since they're really made by crumbling at-least-a-day-old bread to smithereens. Pick something that's compatible with your meal—especially if you're serving bread on the side, and in this case you can crumble it up by hand if you don't own a food processor. For something like Chicken Parmesan one prefers the finer texture that can usually only be had through technology.
Bake, uncovered, in the center of the oven for about 20 minutes until very bubbly and golden brown; but if you find that your schedule is off, turn the oven all the way down when you first see signs of bubbling and browning, and it'll wait in there for a long time if necessary.
Applesauce
6 to 8 medium apples
¼ to ½ cup sugar
The apples can be any variety you enjoy, but as a rule: the sweeter they are, they juicier they will be, and therefore they'll reduce a bit more when cooked, so you might want to throw in a couple more if yours are especially sweet. Plus, applesauce made from truly fresh and sweet fruit is almost insulted by the addition of sugar at all. Taste it after it's been cooking for a while to see how it's all turning out, and then add a little sugar if you find it lacking.
Peel, core, and chop the apples.
Put them into a roomy saucepan, add water to half the depth of the apples, and stir in the possibly optional sugar.
Cover and bring to a boil, and then cook over medium heat, uncovered—stirring occasionally—until the apples are soft.
Mash them—leaving chunks if you wish—and continue to cook, stirring more frequently, until it's the way you like it.
Pour your applesauce into a serving dish, and cool it down before refrigerating. If you're going to make it well in advance—or in vast quantities for long-term storage—pour it piping hot into jars that you're sure are absolutely clean; and you can basically sterilize them by filling them first with boiling water. Then, if you plan to freeze it, please remember that the apples themselves are really mostly water and correspondingly leave space at the top of the jar for expansion.
While those wishing to download my cookbook for free might care to click here, where if you're also hungry for entertainment, you might like to sample some of my fiction as well.
Enjoy!