Want to blow the minds of those you love? Then get up early and surprise them with this simple, heartwarming enhancement to almost anybody's beverage.
Yes, even on a relatively warm summer morning, many people will still want a little something to go with their habitual eye-opener, and so I baked this up in my countertop convection oven when the kitchen was still pleasantly cool.
Plus, it was also pleasantly quiet there in the dawn's early light, and I wanted to keep it that way, so I decided to add to the old-fashioned ambiance by mixing this cake up with my trusty old eggbeater—inherited from Aunt Phoebe, who probably purchased it at least half a century ago.
Likewise, this classic recipe came down to me from my husband's grandmother; while it's hard to specify just how many people this cake will satisfy, since I've seen a very young and hungry man lay waste to one all by himself….
However, as a rule, I'd say it serves four.
Grandma's Sour Cream Coffee Cake
2 cups all-purpose flour
½ teaspoon salt
½ teaspoon baking soda
2 teaspoons baking powder
1 cup sour cream
¼ cup shortening
1 cup sugar
1 egg
Low-fat sour cream will work fine here, but don't try to substitute oil for the shortening; while those who avoid shortening might try softened butter instead, although I'm not making any promises. I thought about doing it once, but I knew it would change that old familiar flavor….
Beginner tip: if you want to bake up a lot of this for a bunch of people, you can't do it by using a bigger pan.  You can mix up twice as much, but you've got to divide it between two 9"x9"x2" baking pans. If you don't have two of those, I'll bet you've got a couple of 9-inch cake pans that will do almost as well.
Line your pan with parchment paper or generously grease it with shortening.
Yet another beginner tip: when fitting paper, begin with it upside down to more easily mold it to the pan. Then cut diagonal slits down into the corners, so that after you flip things back over, the paper will overlap in the corners to make a smooth and easily removable corner on your cake.
Preheat the oven to 350 degrees.
Sift together the flour, salt, baking soda, and baking powder and set aside; while if you don't own a sifter you can mix these ingredients well by hand and get by, but if you aspire to any sort of serious baking, you'll want a sifter to obtain serious results.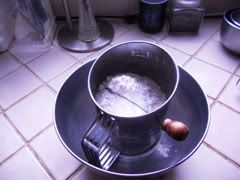 Measure out the sour cream.  Set aside.
Put the sugar, shortening, and egg into a large bowl.  Cream them with a hand or electric beater until well blended and fairly light.
Add about half of the sour cream to the creamed mixture, followed by about half of the flour mixture.
Repeat this process until all is incorporated, and then beat well for about 3 minutes at medium speed; while if you're doing this by hand, you'll have to abandon your eggbeater for the final addition of flour in favor of a sturdy spatula, since this batter will be so thick as to resemble a really soft and sticky dough.
Dump the batter into the pan and gently spread it evenly into the corners; while because it's such sticky business, you're going to end up with a very irregular surface, which doesn't matter and is actually part of the charm.
Topping
1 ½ teaspoons butter
½ cup granulated sugar
1½ teaspoons cinnamon
Melt the butter in a small saucepan over very low heat. Mix the sugar and cinnamon into it, and then carefully distribute this mixture over the top of the batter.
Gently punch holes down into the batter with a table knife so that the topping will work down into the cake as it bakes.
Bake about 25 to 30 minutes until well-browned and a toothpick plunged into the center comes out clean.
Grab the edges of the paper and lift your cake out of the pan onto a cutting surface. Remove the paper, cut into squares, and serve while still nice and warm….
While if you've enjoyed this little confection, you might wish to click here to download my cookbook for free, where those hungry for entertainment may care to sample my fiction as well. 
This is an article written by one of the incredible members of the SheKnows Community. The SheKnows editorial team has not edited, vetted or endorsed the content of this post.
Want to join our amazing community and share your own story? Sign up here.