Looking for something delicious, yet relatively nutritious, to pack into that lunchbox? Or maybe a treat that can actually make it all the way to some hungry college freshman's desk intact? Well here's one time-honored suggestion.
For instance, the recipe card I'm taking this from is so old and stained because it was one of the first things I learned to make for my husband, who was a dorm-residing loaf recipient himself when we met.
Plus, Banana Bread is so easy and cheap to make that I imagine it really would be the first thing your average monkey might try to bake. The only problem she'd encounter in this case is the fact that this recipe yields two loaves—one to eat and one to send!
And so those wishing to divide it down to one loaf may find the math annoying. Much better, I feel, to stash the second one into the freezer—perhaps pre-sliced for spontaneous snacking....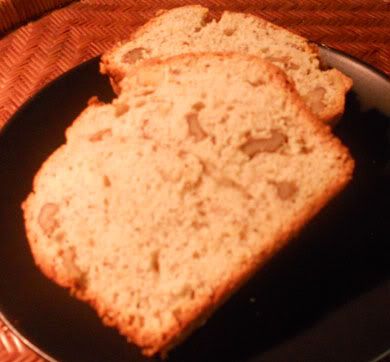 Banana Bread
1 ½ cups mashed banana
1 ½ cups walnut pieces
3 cups all-purpose flour
3 teaspoons baking powder
¾ teaspoon salt
3/8 teaspoon baking soda
1 cup granulated sugar
3/8 cup shortening
3 eggs
Now the walnuts can often be bought at a discount already in pieces, and then you just check to make sure that none are too big. Otherwise, they can be chopped with a knife, although I always prefer to simply break them up by hand. I never use the food processor for this because not only does it just pulverize part of my precious produce and leave me with another dish to wash, but I'm a musician and I never turn that thing on if I don't have to.
Generously grease or line two 8 x 4 x 2 ½ inch loaf pans with parchment paper.
Beginner tip: to line a pan with parchment paper, turn it over and mold the paper into shape while it's upside down. Then you snip down into the corners of the paper with scissors, so that it overlaps when you fit it into the pan, instead of just bunching up and leaving you with a messy edge.
Mash the banana in a bowl with a fork, measure, and set aside; and three to four of your average fruits ought to do the trick here.
Sift together the flour, baking powder, salt, and baking soda and set aside; while if you don't own a sifter you can mix these together very, very well by hand. However, those hoping to seriously monkey around in the kitchen soon learn that sifters are cheap and worth the trouble.
Preheat the oven to 350 degrees.
Mix the sugar, shortening, and eggs on low speed until well blended, then beat hard for about 3 minutes or so until light—light being a relative term, of course, and not something to be overly concerned about. Meanwhile, don't forget to keep scrapping the bowl periodically to be sure all is incorporated.
Stir in the dry ingredients on low speed, and then beat on medium speed until smooth.
Add the walnuts on low speed until they appear evenly distributed.
Divide the batter between the two pans and bake in the center of the oven for about 60 minutes. They're done when a toothpick inserted into the center comes out clean.
Cool them down completely before storage.
Enjoy!
Plus, if you've enjoyed this little confection, you might also wish to click here and download my cookbook for free, where those hungry for entertainment may care to sample my fiction as well.
This is an article written by one of the incredible members of the SheKnows Community. The SheKnows editorial team has not edited, vetted or endorsed the content of this post.
Want to join our amazing community and share your own story? Sign up here.