Last night my sweet baby girl turned twenty-seven, and so it was of course time for yours truly to crank out the requisite confection, which this year turned out to be a chocolate mousse pie with a graham cracker crust—as per her preciously predictable chocolate proclivity. When she was little she always wanted a Cake Roll.
And so I've felt fortunate over the years that her birthday corresponds so closely with the annual height of female chocolate fever, while this year—thanks to Blogher—I even get to participate in the swell recipe swap-fest to be found here in cyberspace.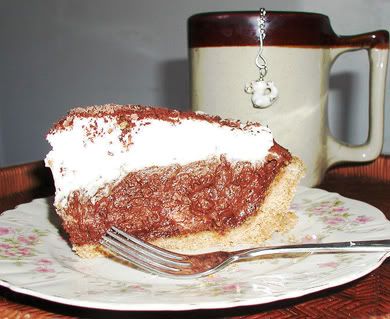 Cool!
So here's my recipe for mousse, which is really just a thick chocolate sauce folded first into a meringue, and then combined with whipped cream; and although folding is a technique that may be beyond simian capability, the worst thing that can happen to the beginner is that your pies may not be quite so light and fluffy until you get the hang of it.
Other than that, the crust is kinda tricky when your patience and dexterity are tested by very, very carefully pressing the buttered crumbs into shape....
Well, I guess such is the price of stardom.
Alternatively, those wishing to avoid frustration may wish to skip the piecrust thing entirely and simply spoon their mousse into individual bowls for a simply elegant compromise—a compromise as well when it comes to the dietary guilt factor, since most of the butter's in the crust.
Important safety tip: back when I was pregnant I used to actually throw a raw egg into the blender with some milk every morning in order to boost my iron levels, but apparently modern science has determined that I might've gotten lucky. Raw eggs are featured in this recipe, and those with delicate conditions had best consult their physician. Meanwhile, if you still want chocolate pie, you might wish to check out my Chocolate Cream Pie recipe—based on Grandma's pudding that's well cooked with tender loving care, and which also features a more traditional piecrust pastry, should you prefer it.
Chocolate Mousse Pie
The crust:
1 ½ cups graham cracker crumbs
½ cup granulated sugar
6 tablespoons butter
Now you can buy your crackers pre-pulverized, or you can let your food processor do it for you. You can even do it without technology like I did way back in the Pleistocene Era when I set my sights on black-bottom pie with a gingersnap crust that I made by putting those snaps into a heavy-duty plastic bag, where they were subsequently bashed over and over and over again with this little bitty hammer somebody with my best interests at heart had somehow left behind in my kitchen….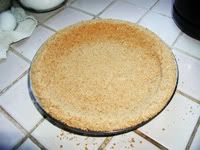 Well, you know, I was in love….
Preheat your oven to 375 degrees.
Melt the butter in a medium saucepan.
Mix in the sugar, and then the crumbs.
Gently but firmly press this mixture onto the bottom and sides of a 9-inch pie plate, while you may recall that this is the tricky part. Start with the bottom, work from the center out, and be aware that my crust is thicker than average.
Bake 4 to 5 minutes, until set and slightly browned.
Cool completely on a rack before filling.
The mousse:
2 cups heavy whipping cream
½ cup confectioner's sugar
6 ounces = 6 squares unsweetened baking chocolate
2 tablespoons butter
¼ cup granulated sugar
2 teaspoons vanilla
6 large eggs
¼ cup granulated sugar
Whip the cream until very stiff, adding the confectioner's sugar at the last minute, and those new to this process will find my hopefully helpful, more detailed explanation of same below. Half of this cream is destined go into the mousse itself, while the other half will next become the topping.
Transfer the cream to another bowl and refrigerate. You're going to need the mixer bowl very shortly to make the meringue.
Melt the chocolate and butter over lowest heat until just softened.
Stir in the first ¼ cup of sugar and the vanilla.
Separate the eggs and stir the yolks into the chocolate mixture.
Beginner tip: to separate an egg, first rap it sharply—but not too hard—on the edge of your bowl to crack it, rather than smash it. Then hold it upright over said bowl with the crack running horizontally, and as you gently pull the shell apart, most of the white will spill over and fall, but the yolk should remain in the bottom half of the shell. Then, carefully pour the yolk into the other half of the shell, which will cause even more of the white to fall into the bowl. Do this again if necessary until most of the white has fallen, and then put the yolk into another, smaller bowl. The main thing is to not puncture the yolk—contaminating the white, which will then refuse to whip.
I own a Mexican cookbook by an amazing blind woman who actually learned to do this by putting the egg into her hand and letting the whites run down through her fingers, so of course you can do it. Start by separating them one at a time over a cup, so that if you mess up you've only ruined one egg white, instead of having to trash them all. Buy a bunch of extra eggs, refrigerate your failures in a glass jar, and use them in another recipe.
Whip the whites on high speed until foamy, then add  the second ¼ cup of sugar gradually, with the beaters still moving, until all is very stiff and glossy.
Stir about half of this meringue into the chocolate mixture, a few spoonfuls at a time, until it's smooth and resembles a very thick sauce. In the beginning the chocolate mixture's going to be very thick, so keep stirring and be patient.
Fold this mixture into the rest of the meringue—a difficult process to describe that involves pouring the chocolate evenly over the egg whites, followed by using a spatula to first cut down into the mixture, with the aim of then folding it over onto itself—rather than the circular stirring motion one generally associates with combining things in a bowl.
When folding, remember to think about cutting directly into the center of your mixture all the way down to the bottom, with the idea of then folding the bottom over onto the top. Then one rotates the bowl slightly on the countertop and repeats, over and over until all is blended—the principal goal of this technique being to keep from deflating your balloon of meringue as little as possible.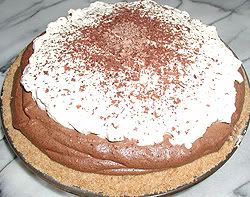 Fold half of the whipped cream into the chocolate meringue, pour it all into your completely cooled pie shell, and then top with the remaining whipped cream.
Decorate with the shaved chocolate of your choice if desired, and then refrigerate at least 4 hours before serving.
This thing holds its shape and stays tasty in the fridge overnight if necessary, but is really at its peak if you whip it up during a delightful afternoon and savor it slowly during a romantic twilight. However, as one can see from my primary photo to be found above, it also makes a sinfully delicious thing to have with your morning tea.
I needed a better picture, OK?
Besides, as everyone knows, it's the season of chocolate fever….
Whipped Cream
Now here's something that finds its way into almost everyone's dessert recipe sooner or later, and you might be interested to know that what follows also yields enough to fill something like a Boston Cream Pie—or maybe a bunch of Cream Puffs.
And for the very best of results, everything involved needs to stay nice and cold, so you'll find it helpful to put your beaters and a large mixer bowl into the freezer for about ½ hour ahead of time.
2 cups = 1 pint heavy whipping cream
approximately ½ cup confectioner's sugar, to your taste
Pour the cream into your chilled bowl and beat on medium speed at first so that the cream doesn't spatter. As it begins to thicken, turn the mixer up to high.
Once it starts to hold its shape, add the sugar gradually on medium speed, and then turn the mixer back up to finish it off.
When I was a young and struggling musician, I whipped cream by hand with Aunt Phoebe's inherited eggbeater, but as soon as I could, I traded up. Not only was I getting enough exercise chasing toddlers, but you just can't get cream that holds its shape for very long without machinery unless you're Napoleon's athletic chef—whisking away in a possibly desperate search for something that will impress even the most demanding of diners…..
Yet another tip for beginners: don't think you can pull this off with a small bowl or you'll get an even bigger surprise than the one that's in store for you if you throw in too much powdered sugar too fast with the beaters still on high. Remember to add ten pain points if the kitchen window's letting in the delightful afternoon's breeze, blowing powdered sugar all over your favorite outfit—plus another ten if you're trying to impress your mother-in-law.
Plus, pie-lovers may wish to check out my Classic Cherry Pie, or maybe the Peach Pie with Cinnamon Crust.
While those wishing to download my cookbook for free might care to click here, where if you're also hungry for entertainment, you might like to sample some of my fiction as well.
Enjoy!
This is an article written by a member of the SheKnows Community. The SheKnows editorial team has not edited, vetted or endorsed the content of this post.
Want to join our amazing community and share your own story? Sign up here.