Well check out what my daughter did the other day: she took it into her head to mix white and semi-sweet chocolate chips together for a new taste treat!
Yes, the result was swell—and on a multitude of levels too, since the last time I was greeted at the kitchen door by the aroma of homemade chocolate chip cookies that I personally did not make was probably sometime around 1965….
And so these things are especially terrific if you ask me, and I hope that they'll be more than entertaining for you as well.
While those you see pictured below lack nuts because in this case the cook does not like them; and so both the photo and her mother will have to do without.
Enjoy!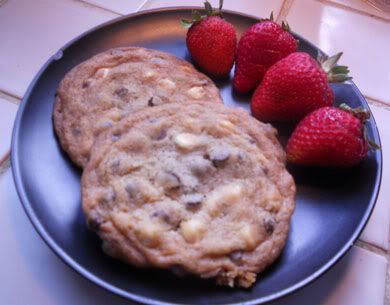 Black and White Chocolate Chip Cookies
1 cup = 2 sticks butter
¾ to 1 cup brown sugar
¾ to 1 cup granulated sugar
1 extra-large or 2 small eggs
¾ to 1 teaspoon vanilla extract
2¼ cups all-purpose flour
1 teaspoon baking soda
½ to 1 teaspoon salt
6 ounces white chocolate chips
6 ounces semi-sweet chocolate chips
1 cup chopped walnuts or pecans (optional)
In a large bowl, cut up the butter into very small pieces to allow it to soften.
Let the eggs warm up a bit on the countertop while you measure out the sugar and find the vanilla.
Sift together the flour, baking soda, and salt.
Beginner tip: if you don't own a sifter, then just mix your dry ingredients very well by hand; but if you really want great results when baking, it's best to sift for maximum evenness of distribution.
Add the brown and granulated sugars to the butter, and beat well at medium speed for about three minutes until well blended and light, scraping the sides of the bowl periodically with a heavy-duty spatula.
Beat the egg and vanilla into the creamed mixture in like fashion.
Stir in the dry ingredients on low speed until all is well blended.
Add the chocolate chips and the chopped nuts, distributing them evenly.
Preheat the oven to 350 degrees.
Cover two baking sheets with parchment paper; while those lacking paper should lightly grease them with shortening or softened butter in the more traditional manner.
Drop 12 rounded tablespoons of dough per baking sheet—which should leave plenty of space for it to melt down and spread out—and then flatten the tops of those little walnut-sized balls slightly to make for even browning. If these cookies run together while baking, they'll probably separate and be fine when you take them of the sheet, just not as pretty. They're not going to be perfectly round anyway of course, since you're not a machine.
Bake for 8 minutes, one sheet at a time, in the center of the oven—sorry, but you can't put two in there at once to speed things up. Those tasty treats will be done when the tops turn golden brown and they appear to be completely set–-a relative term at best and difficult to convey in words, I'm afraid. Lucky for me, I get to just show you a picture.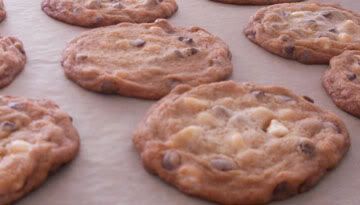 When they're done, carefully remove them to a wire rack with a flat-bladed spatula; and be careful because they're still very flexible at this point, but they'll soon solidify into the expected finished product as they cool.
And then after those crowd-pleasers have been out of the oven for about five minutes you can let anyone who has been hanging around sniffing the air at them. Otherwise, don't put them in bags or cookie jars until they're completely cool.
Plus, if you've enjoyed this little confection, you might also wish to click here and download my cookbook for free, where those hungry for entertainment may care to sample my fiction as well.
This is an article written by one of the incredible members of the SheKnows Community. The SheKnows editorial team has not edited, vetted or endorsed the content of this post.
Want to join our amazing community and share your own story? Sign up here.