This article was written by a member of the SheKnows Community. It has not been edited, vetted or reviewed by our editorial staff, and any opinions expressed herein are the writer's own.
Texas Rockets are grilled bacon wrapped jalapenos stuffed with cream cheese and chicken!
I am from Texas...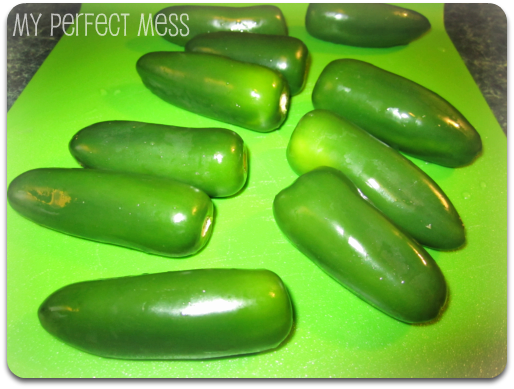 Born there.
Raised there.
I've only been in Alabama for three years. I love Texas... the only way I was ever going to leave would be if God called me to be a missionary or if I met some guy that completely swept me off of my feet.
Both of those things happened.
Alabama is alright... but it's not Texas. They don't proudly display their flag all over the place here... which baffles me. Their Mexican food is pretty much meh. Their biggest city only has one million people in it. You can drive the length of the state in one day here. (What fun is that?) They don't have brisket, bluebonnets or the Frio River.
But other than me living here, they do share one thing in common with Texas...
NASA.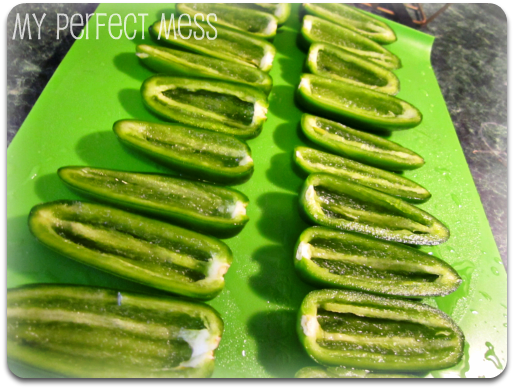 Houston is the command center for NASA. Huntsville, Alabama is where the astronauts train (among other things). I'm not sure how all of this links in with my recipe other than...
I love Texas --->But live in Alabama --->Texas and Alabama have NASA ---> NASA has rockets ---> Texas Rockets Recipe
See? It all links together somehow. (By the way, my husband is the one who made these Texas Rockets... I just ate them and took pictures).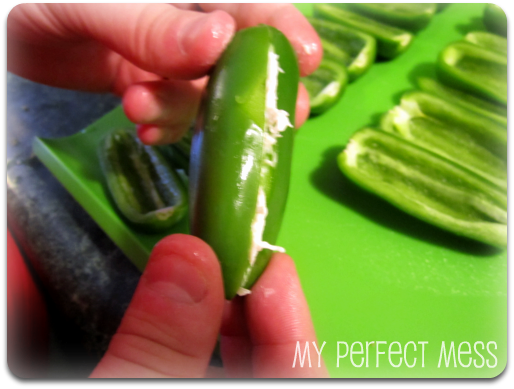 Texas Rockets are one of those foods that make me giddy. It's not something I could eat all the time, mainly because I don't know when to stop.
The tummy ache I have after dinner is worth it though. Amazingly, I never knew about Texas Rockets until after I moved to Alabama. My husband found it in one of my cookbooks and I told him to make it just because it was named Texas Rockets.
Basically these are grilled bacon wrapped jalapenos stuffed with chicken and cream cheese.
Any recipe with "Texas" and "Bacon" in it has to be good.
Warning! These are jalapenos. However, they aren't really that hot because the heat is in the veins and seeds, which are removed. But every now and then I would get a bite that took my breath away. It was awesome!
How To Make Texas Rockets:
Ingredients:
1/2 pound of chicken, cooked (boiled) and finely shredded
4 oz. softened cream cheese
10 fresh Jalapenos (the bigger the better)
1 package of regular bacon (I think they come with 16 slices, you'll only need 10)
1/2 cup Italian Dressing
salt and pepper to taste
toothpicks
oil for the grill
Directions:
- After cooking and shredding the chicken, place it in a bowl, pour dressing over it, cover and let it sit in the fridge for at least 30 minutes. When the chicken is done marinating, mix in cream cheese, salt and pepper.
- Remove the stems from the jalapenos (if there are any). Then slice the jalapenos in half, length wise. Cut out the veins and then wash them in the sink making sure all of the seeds are gone.
- Stuff one side of the jalapeno with the chicken/cream cheese mixture then cover with the other jalapeno half... making a jalapeno "sandwhich".
- Wrap one slice of bacon around the jalapeno and secure it with two toothpicks.
- Turn your grill to medium heat and spray oil on it to keep the bacon from sticking.
- Place the bacon wrapped jalapenos on the grill and leave the lid open. Turn every 2-5 minutes until all sides of the bacon are brown... about 25 minutes.
*My husband wants you to know, it's better for you to stay out there with the grill to make sure the sides do not char and to watch for flare ups caused by the bacon grease.
We served this with baked beans, fresh berry cobbler and sweet tea. I think we should have these once a month during grilling season!
Enjoy,
Mandi