Back-to-school season isn't just a time of buying outfits and supplies; it's a time to think about shaping and growing these little people who share our lives. When you have a toddler, it's almost unfathomable that one day she'll be a grown person with a life of her own.
Between now and then, she'll gain all kinds of wisdom and experience. How to engage with other people. How to think for herself. How to love and how to recover from heartbreak. How to find her own motivation for greatness.
And, if you're a smart and thoughtful parent, she'll learn how to cook. She'll learn from you, perhaps, or from a grandparent.
Cooking used to be a pretty standard course offering in high schools. Budget cuts and changing times did away with home economics and cooking classes (for boys and girls) long ago. And that's too bad. Because cooking is an incredibly valuable life skill.  
Of course, it's easy for me to say, because I love to cook. Always have. But I understand that not everyone knows how, and not everyone finds it fun. (My husband comes from a decidedly non-cooking family; nonetheless, he came to learn and enjoy cooking early in our life together.)
Aside from the health benefits of preparing a meal from scratch with whole ingredients, there are other reasons why cooking is a worthwhile life skill. Cooking is a gift we can give others. It can establish a separation from our workday. It's a creative act, one that lets us experiment, explore and get our hands dirty.
Teach your kids, neighbors or grandchildren to cook, and you'll help them get through college or their early out-of-the-nest years without starving or gobbling fast food. You'll teach them to value good food, to respect what it takes to put a meal on the table. You'll give them the tools to eat healthfully and well. And their future partners or spouses will thank you.
Convinced? Then here are a few simple dishes and techniques that would be appropriate for passing along:
FOR YOUNGER KIDS
Have them help with basic preparation: stirring, whisking, scooping cookie dough onto the baking sheet. Turn grocery shopping into a learning experience by talking about healthy foods and having them help you count the items in your cart. Ask them to help make their own after-school snacks or build their own pita-bread pizza for dinner.
FOR MIDDLE-SCHOOL KIDS
Involve them in menu planning. When you're confident in their ability to safely handle a knife or work at the stove, teach them basic skills and ask them to help with ingredient preparation. Let them make a batch of cookies for the school bake sale. Talk about your family's food traditions, and work together to make recipes that your parents made.
FOR HIGH-SCHOOL KIDS
Have each member of the family plan and prepare a special dinner once a month. Let your kids host their friends for dinner parties. Teach them these basics, and they won't starve in their first apartment:
how to sauté vegetables
how to sauté a chicken breast
how to make an omelet
how to cook pasta and make a basic tomato-garlic sauce
how to make a decent salad
how to cook a hamburger
Part of my volunteer work at a neighborhood social agency—indeed, part of my goal for my food blog, writes4food.com—is to help people learn to cook simply and well.
How about you? Have you taught young people to cook? Please share your experiences by commenting here.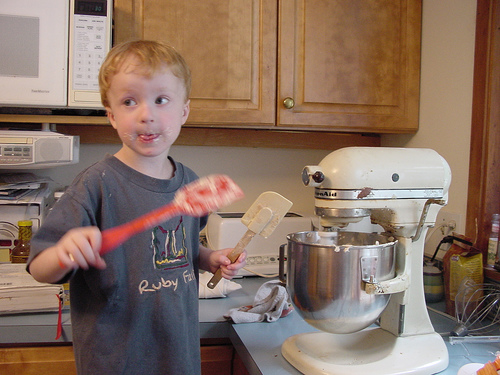 photo by qwrrty, used under Creative Commons license
Bryn Mooth, writer & editor
This is an article written by one of the incredible members of the SheKnows Community. The SheKnows editorial team has not edited, vetted or endorsed the content of this post.
Want to join our amazing community and share your own story? Sign up here.