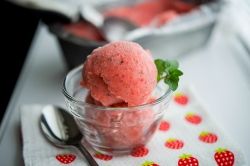 Confession time. I'm not a big fan of ice cream. I know, don't all faint at once. I mean I like it every now and then don't get me wrong. I just don't crave it like some of the members of my family on a weekly basis. A few times throughout the year is good for me and even then I only like one or two flavors of ice cream; however, I love fruit sorbets as they don't contain any dairy products. Since I got a Cuisinart 2qt Frozen Yogurt, Sorbet and Ice Cream Maker from my mother for my birthday in February, I've been dying to try it out and come up with some new experiments of my own and I think I finally got the hang of it. This Strawberry Chocolate Mint Sorbet was my first attempt (without using the recipe book that is) and OH...MY...GOODNESS, I AM HOOKED!
This sorbet was deliciously creamy and only contains 4 simple ingredients: strawberries, sugar, water and mint leaves. I used chocolate mint leaves; which have a minty chocolate flavor similar to Thin Mint Girl Scout Cookies that I recently planted in my herb garden, but you could substitute regular mint leaves instead. When placing in the freezer, I used a quick bread loaf pan lined with plastic wrap so that I could keep the sorbet covered, but you can use a plastic container with a lid instead. I sampled some of this Strawberry Chocolate Mint Sorbet before the family got home and I was glad I did. Once they realized the sorbet was in the freezer, it didn't last very long and they've been begging me to make it again ever since. Yes, it's already gone (it was THAT good!). ~Enjoy!
Strawberry Chocolate Mint Sorbet
Yield: 12 (1/2 cup Servings)      Time: 2 hr 45 min
2 c. Granulated Sugar
2 c. Water
1/4 c. Chocolate Mint Leaves, removed from the stem (you can substitute regular mint leaves)
1 lb. Strawberries, washed and hulled
Directions:
1. In a medium saucepan, combine the sugar and water and allow to dissolve over medium heat. Remove from burner and allow to cool.
2. Add the mint leaves and strawberries to a food processor or blender and pulse until smooth; then add to the sugar and water mixture. Mix well.
3. Next, add the strawberry mixture to your already frozen ice cream maker and allow to churn for 30-35 minutes until it starts to thicken.
4. Place the sorbet in a freezer safe container and allow to chill for at least 2 hours before serving.
This is an article written by a member of the SheKnows Community. The SheKnows editorial team has not edited, vetted or endorsed the content of this post.
Want to join our amazing community and share your own story? Sign up here.