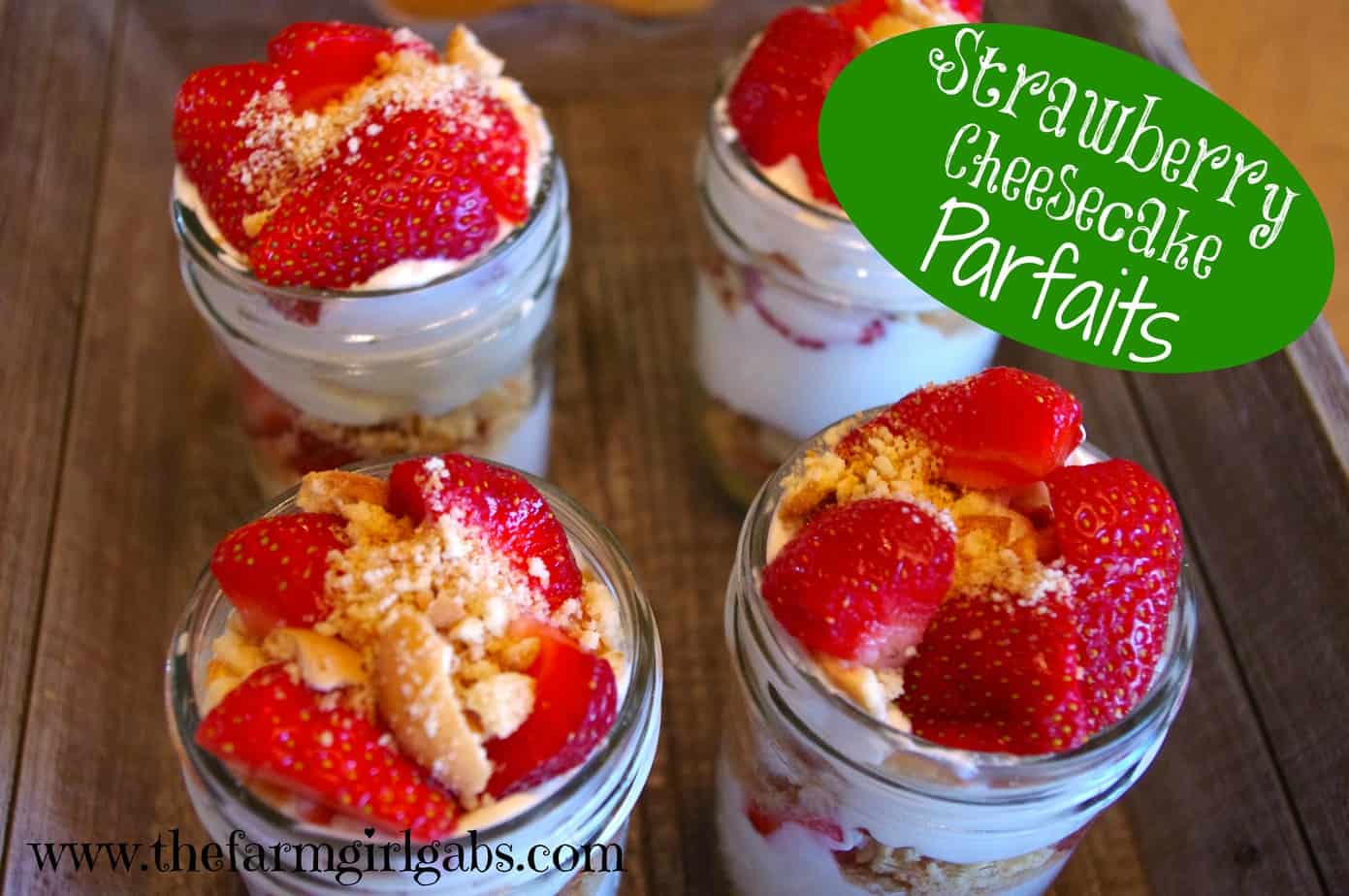 Hooray, it's finally strawberry season here at Russo's! After a cool spring, my favorite little red beauties are finally ready! Better late than never! Right? There is nothing like a Jersey strawberry. The taste, texture and flavor is like no other. Here at on our farm, we grow three acres of strawberries each year, mostly for our retail locations but we do wholesale some. The strawberry plants are planted the spring before the actual harvest. So, the strawberries are planted a full year before we can pick and enjoy eating them. Straw is spread on to of them (hence them name STRAW-berry) in the early spring to protect them and keep them clean.
Since we are in the heart of strawberry season on the farm, I will be featuring some of my favorite "strawberry"recipes throughout the week. Here is a quick and easy recipe for Strawberry Cheesecake Parfaits. Healthy, yet satisfying, these mini-desserts are sure to please. It is an easy weeknight dessert to prepare when time is always running short. Incorporating low fat cream cheese into the yogurt gives you all of the flavor and none of the guilt of an actual cheesecake.
The recipe can even be doubled or tripled to accommodate a larger crowd. Using mason jars is not necessary. I just like the rustic look they provide. If you don't have mason jars, feel free to use wine glass or even a small bowl to layer the parfait in. And, of course, if you don't have access to Jersey strawberries, check out your local farmers' market to see what local strawberries they have. There is nothing like that fresh from the farm taste. I hope you enjoy this. Let me know how you like it. What's your favorite strawberry recipe?
Recipe
2 cups Jersey Strawberries, sliced
12 ounces vanilla non-fat yogurt
8 ounces low fat cream cheese, room temperature
1 teaspoon vanilla extract
1/3 cup powdered sugar
1 1/2 cups crushed vanilla wafer cookies
Directions:
Clean and slice strawberries. Set aside.
Roughly crush vanilla wafer cookies.
In medium bowl, beat cream cheese until light and fluffy.
Add the yogurt, powdered sugar and vanilla and beat until mixture is smooth and creamy.
In 4 pint size mason jars, layer crushed cookies, cheesecake mixture and strawberries. End with strawberries on top. Sprinkle with remaining strawberries.
Refrigerate for 30 minutes.
Melissa
How Does Your Garden Grow?
www.thefarmgirlgabs.com
This is an article written by a member of the SheKnows Community. The SheKnows editorial team has not edited, vetted or endorsed the content of this post.
Want to join our amazing community and share your own story? Sign up here.