This article was written by a member of the SheKnows Community. It has not been edited, vetted or reviewed by our editorial staff, and any opinions expressed herein are the writer's own.
I love a good smoothie any day of the week, whether it's following an intense workout or just to give me that little extra boost in my day. My Strawberry Apple Grapefruit Smoothie with Ginger is tart but delicious with just a little honey added for a touch of sweetness. Whenever you add grapefruit to a smoothie, you can expect it to be somewhat tart, so I like to add some organic honey to the mix. It will still be tart tasting, but just not as much.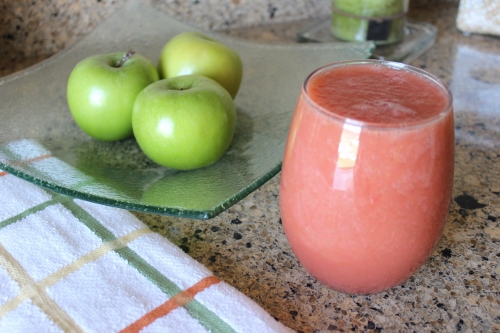 Image:  Courtesy of Jodee Weiland
I love ruby red grapefruit for all the health benefits it adds to any smoothie. The obvious health benefit is the Vitamin C, but it is also has the antioxidant lycopene. The ginger added in this smoothie is a spice that has numerous health benefits, such as easing nausea, helping with the symptoms of upper respiratory tract infections, bronchitis, arthritis, muscle pain, and more.
Read more at Learn from yesterday, live for today...