This article was written by a member of the SheKnows Community. It has not been edited, vetted or reviewed by our editorial staff, and any opinions expressed herein are the writer's own.
Next up in my series of posts on The Sauces of Summer is a sauce that you've probably had if you've gone to a Greek restaurant and ordered a Gyro or the Greek-style kabob called Souvlaki. Tzatziki is a yogurt and cucumber based sauce with herbs that's almost always served with both those dishes, and it's also served as a Meze or appetizer in Greece. Some Greek-American restaurants call this simply "white sauce" but whatever you call it, lots of people love Tzatziki sauce.
I learned to make Tzatziki sauce from my Greek friend Georgette. Different Greek cooks make Tzatziki sauce in slightly different ways, but traditional Tzatziki sauce usually has Greek yogurt, lemon juice, garlic, cucumbers, and dill. Some recipes substitute mint for dill, and there are a few variations that use both herbs. Of course Greek restaurants make Tzatziki year-round with dried herbs, but it really becomes something special in the summer when you can make it with fresh dill or mint.
Most Tzatziki recipes start with finely chopping or grating and then salting the cucumbers to draw the water out. After the cucumber sits with the salt on it, the cucumber mixture is pressed or squeezed to remove the water, and this also rinses away most of the salt. Don't skip this step or your sauce will be too watery. If you don't live in a city, you may have a hard time finding the Greek yogurt that's used in this sauce, but if you can't find Greek yogurt you can strain regular plain yogurt for a few hours to get some thing that's similar (coffee filters are great for this.)
Besides its traditional use with Greek dishes, Tzatziki is also great on salmon or other grilled meats. Here are some recipes for making Tzatziki and also many creative suggestions from food bloggers for ways to use it.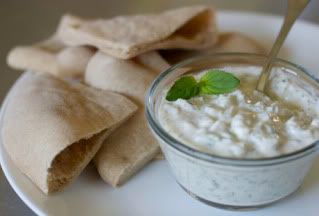 Photo of Tzatziki Sauce from Pinch My Salt.
Tzatziki Sauce Recipes and Tzatziki Variations:
~Talkin' About Tzatziki from Pinch My Salt (pictured above)
~Tzatziki Recipe from Cooking by the Seat of My Pants
~Tzatziki with Parsley from The Perfect Pantry
~Tzatziki Sauce (with strained yogurt) from Recipe Girl
~Avocado Tzatziki from More Than Burnt Toast
~Tzatziki (with a splash of Ouzo) from Kalofagas
~Avocado Tzatziki from Anne's Food

Photo of Greek Meatballs in Pita with Tzatziki Sauce from Closet Cooking,
Tzatziki Sauce with Meat:
~Greek Meatballs in Pita with Tzatziki Sauce from Closet Cooking (pictured above)
~Souvlakia with Tzatziki Sauce from More Than Burnt Toast
~Greek Steak Pita with Tzatziki Sauce from For the Love of Cooking
~Lamb Burgers with Tzatziki Sauce from The Barefoot Kitchen Wench
~Gyros with Roasted Veggies and Tzatziki from Love and Olive Oil
~Greek Burgers with Tzatziki from Seriously Good

Photo of Chicken Gyros with Tzatziki from Cafe Johnsonia.
Tzatziki Sauce with Chicken or Fish:
~Chicken Gyros from Cafe Johnsonia (pictured above)
~Chicken Souvlaki with Tzatziki Sauce from Sugar Rush
~Falafel Crab Cakes from Lucy at Serious Eats
~Chicken Curry Burgers from Vanilla Sugar
~Tzatziki Chicken Salad from Poor Girl Eats Well
~Salmon with Cucumber-Dill Sauce from Fresh Approach Cooking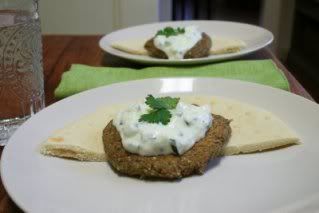 Photo of Falafel and Homemade Tzatziki from Vintage Mixer.
Tzatziki Sauce with Beans or Vegetables
~Falafel and Homemade Tzatziki from Vintage Mixer (pictured above)
~Zucchini Fritters (Kolokithokeftedes) from Kalofagas
~Greek Style Zucchini Fritters with Tzatziki from Closet Cooking
~Greek Style Tzatziki Pizza from What's Gaby Cooking
If you have more interesting recipe variations or ideas for using Tzatziki Sauce, we'd love to hear about them in the comments!
(This is the second in a series of posts on herb-based sauces. You can find previous recipes shared by clicking the tag The Sauces of Summer.)
Kalyn Denny writes about low-glycemic cooking at Kalyn's Kitchen, where Georgette's recipe for World's Greatest Tzatziki Sauce is not only one of the most popular posts, there's even been a poem written about the Tzatziki recipe!