This article was written by a member of the SheKnows Community. It has not been edited, vetted or reviewed by our editorial staff, and any opinions expressed herein are the writer's own.
It was pointed out to me yesterday that calling the bento I made for myself an "adult" bento could cause some confusion. So I'll be calling them kid bentos and big bentos from now on! So now that that's settled...
I took some inspiration for Miss Girl's bento from yesterday's. She tends to like fewer and fewer "kid" things. So here's her lunch:
The top tier has half a muenster and veggie bologna sandwich, lettuce, pickle, baby red sweet pepper, and a sword pick of olives.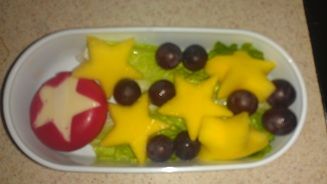 The bottom tier has a BabyBel with a star cutout, some red grapes, and some mango stars. She was really looking forward to this one!
And here's today's big bento: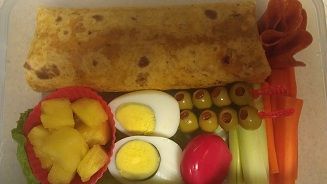 A pastrami, ham, muenster, cheddar, and pepperoni wrap (with lots of lovely veggies on it too); a little rosette of pepperoni; carrot and celery sticks; two sword picks of olives; a BabyBel; a boiled egg; and some pineapple for dessert. Not as colorful as I would've liked, but overall I'm pretty pleased with the result.