This article was written by a member of the SheKnows Community. It has not been edited, vetted or reviewed by our editorial staff, and any opinions expressed herein are the writer's own.
Seems like last time I made a cheese ball was in the 70s. Oh wait, I wasn't even old enough to make cheese balls in the 70s! Why is it that cheese balls seem so retro? And yet, they're turning up everywhere in the food blogs. No wonder, they're fast and easy additions to holiday buffets and football feasts both. Yes, cheese balls rock! Still, take note how nearly all the recipes come from someone's aunt, someone's mom, someone's neighbor. Like I said, the 70s. (Read on for recipes.)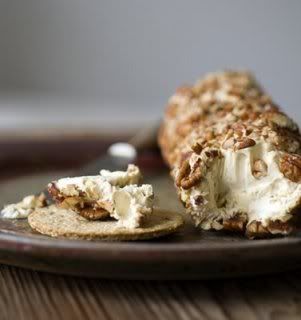 Photo by Lisa Fain
Homesick Texan ~ Cheese Balls and Aunt Betty "... my great-great-great aunt Betty, my great-grandmother's sister. ... arrived with the experience of her many years of so-called sophisticated city living. And one of the spoils of this experience was her contribution to the holiday table —- her cheese ball. It was unlike anything my rural relatives had seen before, and some sniffed that it was definitely not proper country food. But no matter, it was still a hit and my grandmother, fortunately, got the recipe from her aunt Betty."
Al Dente Blog ~ Lillie Bea's Hazelnut Cheeseball "Cousin Lillie used to bring some of the most savory little treats to our family dinners –- stuff she'd made with her own manicured hands. We especially liked her homemade cheese balls; in fact, we used to say, "It wouldn't taste like Christmas without one."
The Life and Loves of Grumpy's Honeybunch ~ Mom's Cheese Ball "Every Christmas Eve growing up we would go to my paternal grandparent's home. My dad came from a large family and most of them would come that same late afternoon or evening and everyone would bring a treat to pass. It was always such a fun time. Getting to see our cousins and having all the yummy treats out to eat was always something we looked forward to!"
Okay, so not all cheese ball recipes come from relatives.

Photo by Big Red Kitchen
Big Red Kitchen ~ Curried Cheese Ball (which Once Upon a Plate calls Not Your Mama's Cheese Ball, see????) "This cheese ball has so many flavors going on that a new flavor sensation comes with each bite."
Batter-Splattered ~ Port Wine Cheeseballs "It's easy and it's good. Really, really good. So good that I put it out on the table for awhile but people were digging into it too much, so after awhile I greedily stuck the remains of it back in the fridge and i filled the empty spot on the table with a relish tray. I've been carving away at it bit by bit for days now."

Photo from Inn Cuisine
Inn Cuisine ~ Snowman Cheese Ball "Almost too cute to dig into, I invite you to serve this cheese ball to your wintertime guests this season, and soon it will be snowing inside your home as well!"
Twitter Links
(NOTE: Every so often, my fellow BlogHer editor Kalyn Denny and I do a call for links via Twitter. Follow me via Kitchen Parade on Twitter and Kalyn via Kalyn's Kitchen on Twitter.)
Indian Food Rocks ~ Zippy Cheese Balls "It reminded me of cheese balls that I had eaten with great relish at a friend's party. Why not?"
And you?
And you, is there a cheese ball recipe in your repertoire? Leave a recipe or a link to a recipe in the comments!
BlogHer food editor Alanna Kellogg made a cheese ball for her cookie swap today, along with Fresh Cranberry Drop Cookies.