As my alarm went off this morning, I rolled over, blinking the sleep out of my eyes. It's Wednesday, which means it's halfway through my work week. Hooray! This week (not to mention month) has been flying by! Pretty soon the weekend will be here, which will signify that we're halfway through March and spring is almost upon us. As I stumbled into a hot shower, my mind drifted onto my weekend plans.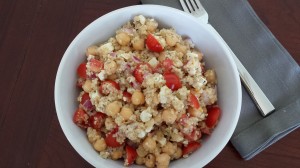 My husband and I have a low-key weekend ahead of us, much needed after the last one. The past weekend consisted of a dinner date on Friday, a family get together on Saturday, a lunch date on Sunday with a few of my girlfriends, and dinner out again at night. Needless to say, it consisted of eating out every day of the weekend. Although I love going to restaurants, I much prefer a home-cooked meal. And since I wanted to eat lighter during the week, I decided to whip up a delicious quinoa and feta salad for my lunches.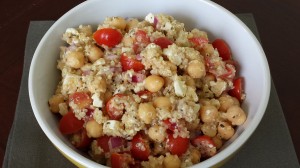 The recipe was inspired from a combination of ingredients that I love. Quinoa, chick peas (my new obsession), feta cheese, cherry tomatoes, and red onion combine with a dressing of olive oil, apple cider vinegar, lemon juice, basil and garlic. The results? A light salad, bursting with flavor. The apple cider vinegar gives the salad a refreshing tang that mixes well with the olive oil and lemon juice. This salad is definitely keeping me on the right track of eating light this week!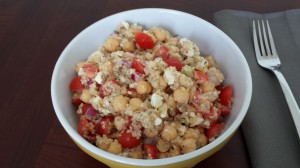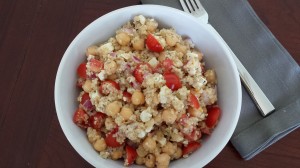 Quinoa and Feta Salad
Yields 4
A deliciously light salad, bursting with flavor! Quinoa, feta, chick peas, cherry tomatoes, and red onion combine with a dressing sure to leave you wanting more.
Ingredients
1 cup quinoa, cooked and drained
1 can chick peas, rinsed and drain
6 oz crumbled feta cheese
Half red onion, chopped
2 cups cherry tomatoes, quartered
the juice of one lemon
4 tablespoons olive oil
2 tablespoons apple cider vinegar
1 tablespoon basil
1 teaspoon garlic powder
Salt and pepper, to taste
Instructions
In a large bowl, combine the quinoa, chick peas, feta cheese, red onion and tomatoes.
In a separate bowl, mix together lemon juice, olive oil, apple cider vinegar, basil, garlic powder, salt and pepper.
Pour dressing over salad and toss well to coat.
4Serve at room temperature or chilled.
This is an article written by one of the incredible members of the SheKnows Community. The SheKnows editorial team has not edited, vetted or endorsed the content of this post.
Want to join our amazing community and share your own story? Sign up here.