When I was a kid, I loved it when mom made pancakes or french toast for dinner, and if you have kids who are eagerly looking forward to Halloween, I think Pumpkin Waffles or Pumpkin Pancakes would be a perfect Meatless Monday dinner on Halloween week. (And if you don't get them made for Meatless Monday, they'd definitely be a hit for breakfast on Halloween.) Here are two that looked especially good to me; just click the link below each photo to get the recipe.

What kid wouldn't love Pumpkin Banana Waffles from the Perfect Pantry
for a Meatless Monday breakfast-for-dinner right before Halloween?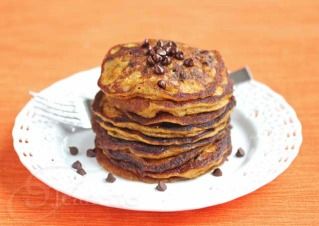 For a Gluten-Free Meatless Monday breakfast-for-dinner how about
Gluten-Free Pumpkin Spice Pancakes from Jeanette's Healthy Living?
Have you made something interesting for Meatless Monday this week? If so, please share the recipe link or your recipe in the comments. You can find more Meatless Monday recipes by clicking the tag Meatless Mondays.
BlogHer Contributing Editor Kalyn Denny also blogs at Kalyn's Kitchen where she's committed to low-glycemic cooking, and at Slow Cooker From Scratch, where she features "from scratch" slow cooker recipes. Kalyn probably won't ever be a vegetarian, but she does love to make meatless dishes such as Low-Sugar and Whole Wheat Pumpkin Muffins with Pecans.
This is an article written by a member of the SheKnows Community. The SheKnows editorial team has not edited, vetted or endorsed the content of this post.
Want to join our amazing community and share your own story? Sign up here.