Pumpkin Gingersnaps
Do you know someone who seems to know exactly what you feel like eating, moments before you realize yourself what you might feel like eating?
It used to be my mom. Sometimes it's my husband. Sometimes it's even myself, when I bake something or make a meal plan for the next day and the next day what I made or planned to make is exactly what I feel like eating that day.  Does this make any sense at all?
Anyways, the person who is really all this to me most consistently has to be Maria, over at Two Peas and Their Pod.  I know she probably thinks I am extremely creepy now, but there is not a negative word to be found about her in the blogging world, so I'm reasonably confident she's nice enough not to say so, even if she does take out a restraining order.
Every time I visit their blog, which is often, there is something not only tempting and delicious looking, but almost invariably something for which I HAVE ALL THE INGREDIENTS.  I love recipes like that since it means a) we have the same taste, since we stock the same ingredients, and b) I can make it immediately rather than lose it in my pile of to-be-mades requiring a carefully planned shopping list.
These cookies caught my eye a couple days ago, and I'm SO GLAD they didn't end up lost in that to-be-made pile because, seriously, my life was not complete.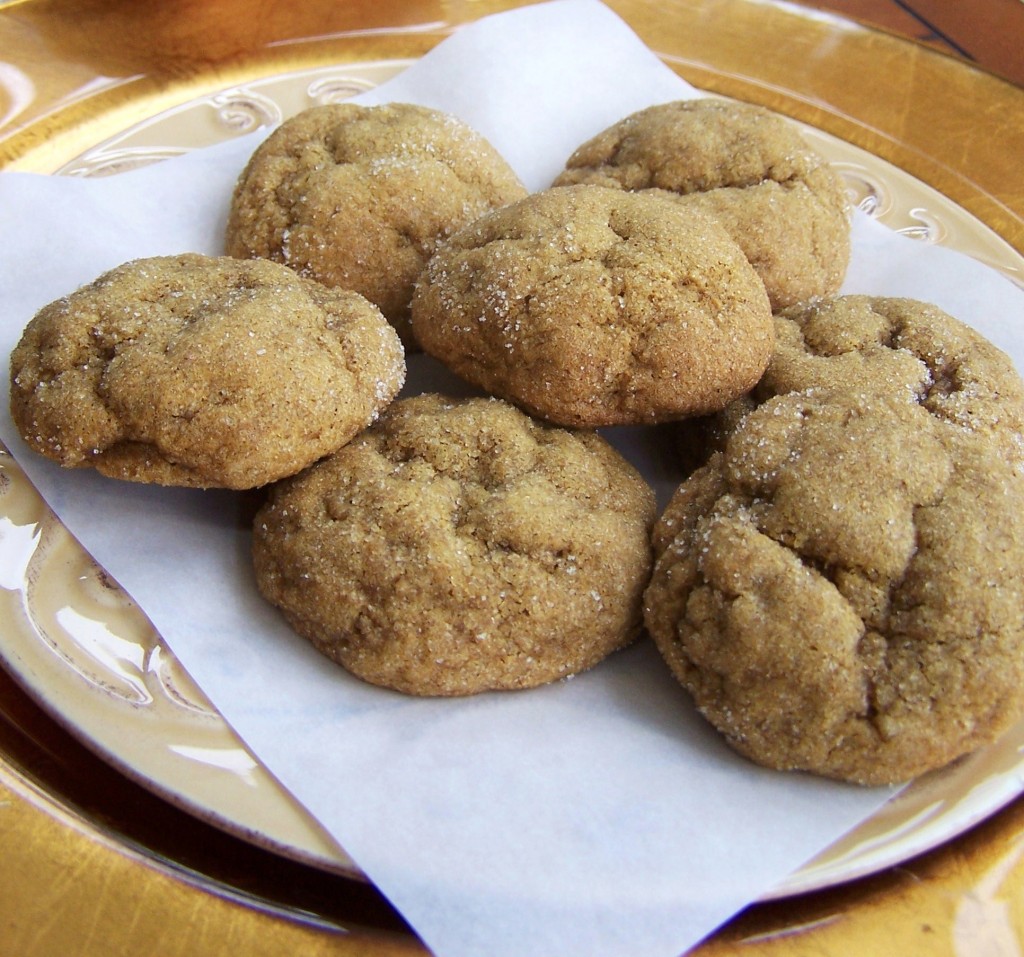 I love gingersnaps, and have a rather perfect gingersnap recipe I make regularly. But pumpkin gingersnaps?? Be still, my heart.
These cookies are perfect in every way. They taste like fall, in a soft, chewy, sugar-coated form. I cannot stress enough how quickly you need to get to making these. And if you have a well-stocked cupboard and enjoy baking, check out the source too. You'll be hooked.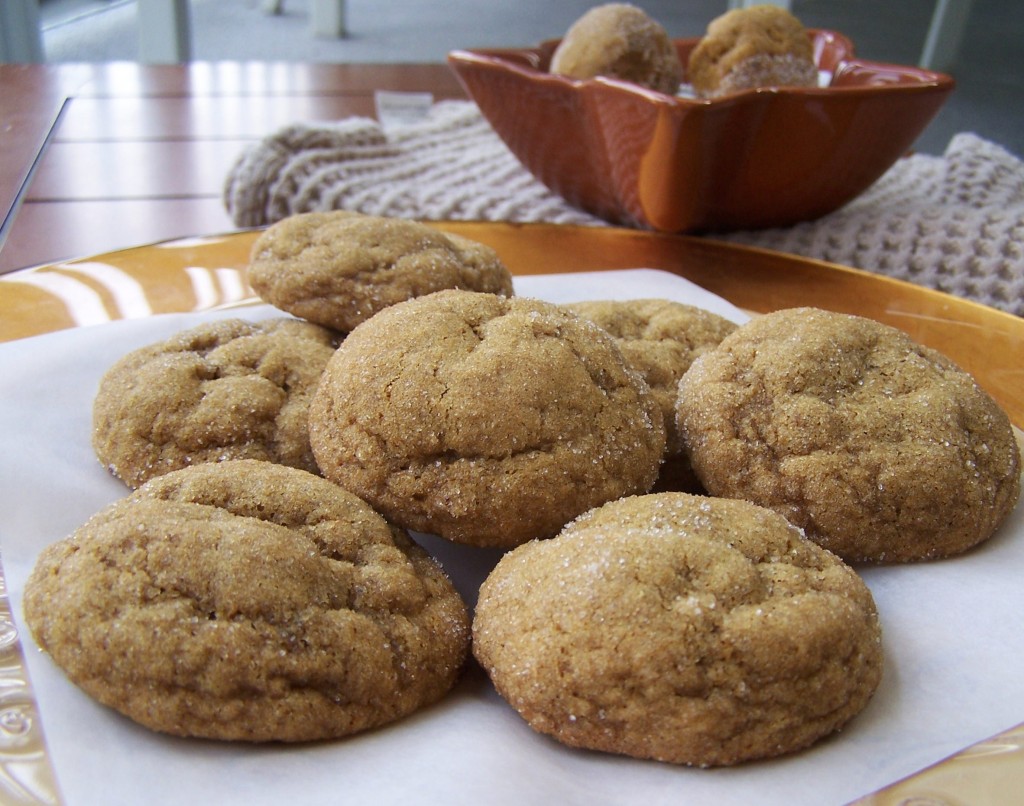 Pumpkin Gingersnaps
Recipe from Two Peas and Their Pod
1/2 cup butter, room temperature
1 cup sugar (plus additional 1/3 cup for rolling cookies in)
1/2 cup canned pure pumpkin
1/4 cup fancy molasses
1 egg
1 tsp vanilla extract
2 1/3 cups all-purpose flour (I swapped 1 cup with whole wheat flour and couldn't even tell)
2 tsp baking soda
2 tsp cinnamon
1 1/2 tsp ground ginger
1 tsp ground cloves (optional, if, like me, you don't like cloves)
1/2 tsp salt
Directions:
Beat butter and 1 cup sugar until smooth. Add pumpkin, molasses, egg and vanilla and mix well.  In a separate bowl, combine flour, baking soda, cinnamon, ginger, cloves and salt.  Add dry ingredients to wet, beating well.
Refrigerate dough for at least 1 hr, or up to 3 days.
When ready to bake, preheat oven to 350 degrees.  Put 1/3 cup sugar in bowl and roll tablespoon-sized balls of dough in sugar before placing on a greased or lined baking sheet.  Bake for 10-12 minutes, until just set and crackly-topped.  Let cool on baking sheet for a couple minutes before removing to rack to cool completely.  Makes about 3 dozen cookies.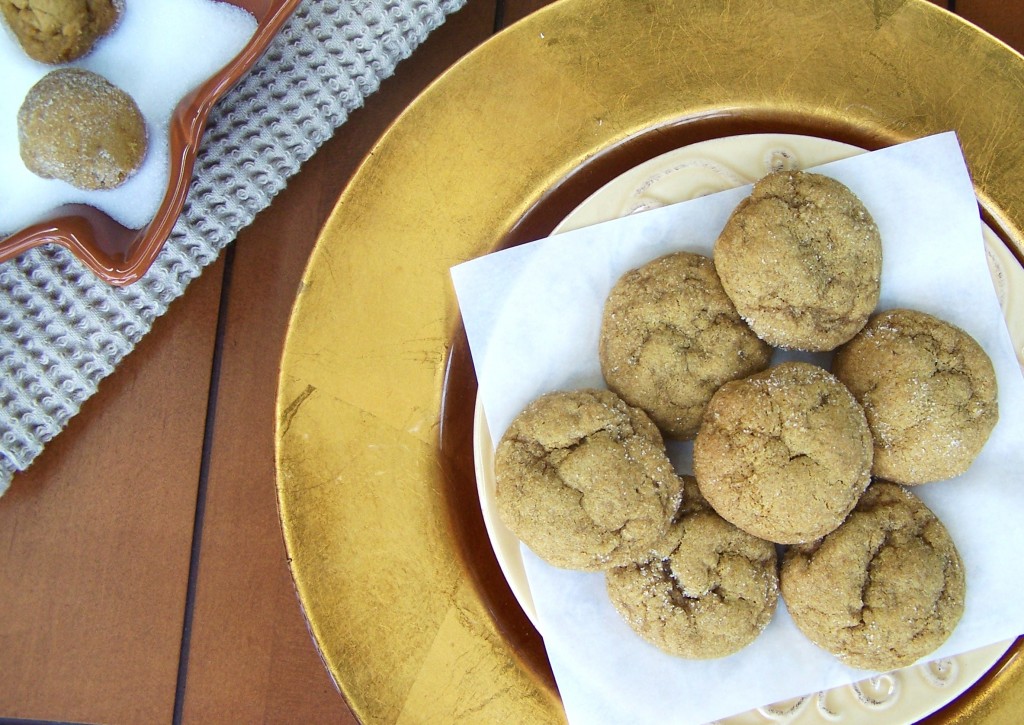 This is an article written by one of the incredible members of the SheKnows Community. The SheKnows editorial team has not edited, vetted or endorsed the content of this post.
Want to join our amazing community and share your own story? Sign up here.