Playing With the Dehydrator
So it happened again. Once again, I bought bananas because we really do eat them, and once again I had a couple left over that were too brown and smushy for anyone to really want to eat, even though they're so so sweet like this. Last night I was looking up all my yummy banana baking recipes, but we really don't need any more baked ANYTHING right now (and I really didn't want to go to the store for chocolate chips, since that's what we put in our banana breads and cookies and muffins around here instead of nuts). So I asked Mr. Man what he would like me to bake with the bananas, and he surprised me by saying, "Nothing. Dry them." Of course, I thought it would never work, they're too soft. But then today I looked up how to do it, and apparently this is when you WANT to dry your bananas, because it's when they're sweet. Okay then! So here's what I've been doing this morning:
PICTURE
Took a couple of these little beauties (or big beauties, as it were):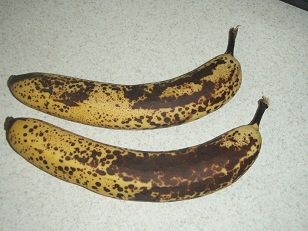 Peeled them:
Sliced them:
About this thick:
Dipped the slices in lemon juice (to keep them from turning too brown):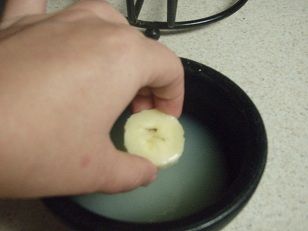 And laid them on the dehydrator tray. If you want to do this, make sure everybody has his or her own space. This is a garden party, not a rave. Keep it classy or they'll stick together.
I had enough bananas to start a second tray, but not enough to fill it up. I hate wasted space, so I pulled the fruit that's about to be too ripe out of the fridge and prepped it too:  An apricot and the last of the cherries. More than a couple of the cherries accidentally fell into my mouth. Of course, the ones that couldn't be pitted without dissolving into puddles of mush went into the trash.
And THEN, because I am neurotic and an almost-but-not-quite-full tray makes me twitch, and also because dried kiwifruit is sooooo lovely, I pulled the softest kiwifruit out of the fridge, peeled it, and sliced it, and onto the tray it went too:
The bananas need to dry at 150 degrees Fahrenheit for the first two hours, and then 130 degrees Fahrenheit for around another six hours before they'll be done. I'll judge the other fruits when I check on them (since everything needs to be flipped over halfway through drying anyway), but I'm guessing the kiwifruit will be about the same, and the cherries and apricots might need a little bit longer.
And here is how they looked afterwards!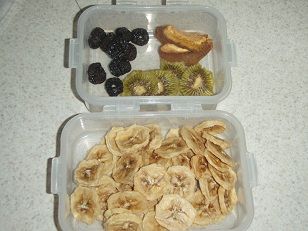 I actually ended up oversleeping (work nights, day sleeper) and not checking on them, turning them over, or even turning down the temperature for 5 1/2 hours. The kiwifruit were done, but everybody else needed a little more time.  I gave everything else another maybe two hours at 130 degrees. The end result? Kiwifruit are crisp and delicious, bananas are not as crisp as the kind you buy at the store (which are often fried a little bit too), but are much sweeter than I expected they would be, cherries are really wonderful and sweet, and the apricot is a little more tart than I expected. I might actually end up being the only person to eat the apricot. But everything else is delicious and better than I thought it would be. Yay for not throwing away money when the fruit started to be too ripe!
This is an article written by one of the incredible members of the SheKnows Community. The SheKnows editorial team has not edited, vetted or endorsed the content of this post.
Want to join our amazing community and share your own story? Sign up here.