It's the holiday season, when many people who normally avoid spending time in the kitchen start making plates of candy and passing them out to friends, neighbors, co-workers, and of course, their child's teacher. I've gotten countless numbers of these holiday candy plates from students, and over the years I've become increasingly committed to appreciating the sentiment while depositing the treats in the faculty room for evening custodians to devour. My willpower at passing up candy is pretty strong, but I have to admit that if the plate includes some fudge, it's the one type of holiday candy I probably won't be able to resist.
For me, it's the creaminess of fudge that makes it so delicious. I remember my mother melting the butter and chocolate and bringing it to a boil, with a candy thermometer ready to judge when the fudge should be poured into the pan to harden. In those days, mom had a basic fudge recipe which never varied, but here are some interesting new takes on fudge that I think sound like they might be worth trying.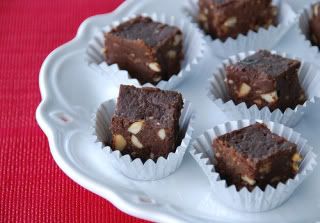 Susan at Food Blogga also has a mom who makes fudge, and her mom's Peanut Butter Fudge looks wonderful. Susan suggests this as a Christmas gift, and as I've already admitted, if she gave me some I wouldn't even try to resist it. (Susan's Peanut Butter Fudge is pictured above.)

Erin Cooks makes Chocolate Pistachio Fudge from a recipe by cooking goddess Nigella, and doesn't realize until she sees the goddess herself making it on TV that the recipe she found on the site of a cooking show left out the butter. Luckily for you, Erin managed to find the correct recipe to share, and this looks amazing. (Erin's Chocolate pistachio fudge is pictured above.)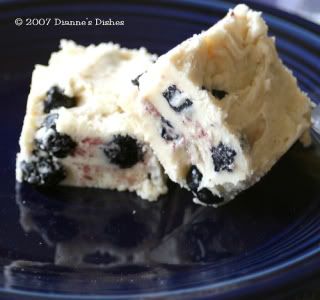 I missed seeing the recipe for White Chocolate and Blueberry Fudge when Dianne's Dishes posted it last year, so I was glad she reminded her readers about the recipe. Even though I am admittedly usually a fudge purist, I think this combination of white chocolate and blueberries is intriguing. I would definitely indulge if this fudge showed up on a plate from one of my students. (Dianne's White Chocolate and Blueberry Fudge is pictured above.)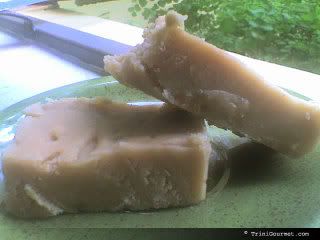 Sarina at Trini Gourmet has a Vegan Peanut Butter Fudge that looks easy and sounds to me like it would be tasty. Sarina is in Trinidad where it's always hot, so she keeps her fudge in the fridge! (Sarina's Vegan Peanut Butter fudge is pictured above.)

Gluten-Free Mommy is not a cooking snob, so she's proud to share her recipe for Five-Minute Peppermint Fudge, which requires no candy thermometer or double boiler, but looks like it would be delicious. (Natalie's Five Minute Peppermint Fudge is pictured above.)
More Fudge Worth Taking a Look At:
~Gluten-Free Raw Chocolate Fudge from Elana's Pantry looks interesting, and the recipe uses Agave Nectar instead of sugar.
~For cooks who appreciate a simple recipe, check The Easiest Fudge in the World at the Casual Perfectionist, made in the microwave.
~If you're looking for a classic fudge recipe like the kind my mother used to make Dad's Favorite Fudge at Simply Recipes sounds like the fudge I remember.
Fudge Facts:
Wikipedia claims that fudge was created by accident, when a batch of caramels was "fudged" in 1886.
So BlogHer readers, what's your favorite type of fudge? If you have a good recipe, please share the link or your recipe in a comment.
Kalyn Denny writes about food and at BlogHer.com and shares her passion for cooking at Kalyn's Kitchen where she's making Flourless, Sugar-Free Pistachio Cookies for her holiday plates.
This is an article written by a member of the SheKnows Community. The SheKnows editorial team has not edited, vetted or endorsed the content of this post.
Want to join our amazing community and share your own story? Sign up here.