Okay, I promised a cuter lunch one of these days! Starting to come out of my funk, so I'm finally feeling up to it, too.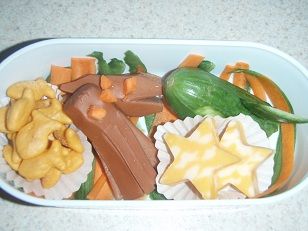 I had seen a cute little cucumber orca picture online recently and thought, "Hey! I can do that!" So Miss Girl has a mini cucumber orca (can't really see him very well, though), a veggie octodog, a veggie dog crab (both with carrot eyes), some marble jack starfish, some Goldfish crackers, and sea plants made from cucumber and carrot shreds.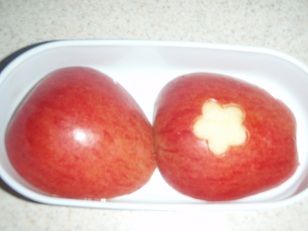 Totally ran out of time. I had all these cute plans for her fruit and no time to do them. Oh well. Two halves of an apple, one with a pitiful little flower cut out of the skin. Still feels like a success to me, though!
This is an article written by a member of the SheKnows Community. The SheKnows editorial team has not edited, vetted or endorsed the content of this post.
Want to join our amazing community and share your own story? Sign up here.