Nava Atlas on How to Tame Winter Squashes and Sugar Pumpkins
I am delighted to share a fantastic guest post with you today! My friend Nava Atlas is here to provide tips on cooking with winter squash – just in time for your next holiday meal!
How to Tame Winter Squashes and Sugar Pumpkins
by Nava Atlas
Recipes that instruct me to peel and dice a raw winter squash or sugar pumpkin make me feel so inadequate. I want to run and get my husband's chain saw. I've often wondered whether the problem was  that my knives had gone dull, or that my hands have become weak. The thought of doing the "peel and dice" battle often put me off winter squashes, though I dearly love them. It was a relief to learn that others have this dilemma and, like me, are somehow too proud to admit it.
With their lilting sweetness and exuberant orange flesh, winter squashes are especially welcome at holiday meals. And when you learn this tip for taming winter squashes to make them super-easy to cut, you'll want to use these nutritious and delicious beauties with abandon. The trick is simply to partially bake them before doing any serious cutting. Here's how it's done:
Preheat the oven to 375º F.
Wrap the entire squash in foil and place in a baking dish. I try to do two or three squashes at once or bake something else (like potatoes or sweet potatoes), so that I'm not using the entire oven just to bake one squash.
For smaller squashes like acorn, golden acorn, delicata, and the like, bake for 15 to 30 minutes; for larger squashes and sugar pumpkins, 25 to 50 minutes, depending on the size of the squash and what you intend to do with it. If you ultimately need firm slices or chunks, or if you'll be stuffing and re-baking the vegetable, bake only until you can pierce through the part without the seeds with some resistance. If you'll be pureeing the flesh, as for a pie or a soup, bake until easily pierced.
When cool enough to handle, cut in half (if you haven't done so already), and scoop out the pulp and seeds (and if you have patience, clean and roast the seeds for snacking!). If you'll be doing anything other than stuffing the squashes, cut into thick slices or sections to peel; discard the skin. Then, follow whatever recipe you're making.
For a visual demonstration of this process, see VegKitchen's Vegan Minute video onHow to Cut Butternut Squash Easily.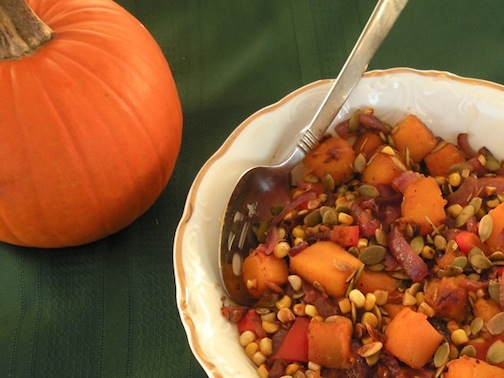 Pan-Seared Winter Squash and Fresh Corn
Serves: 8 or more as a side dish [click to continue for recipe…]
JL Fields, a vegan lifestyle coach, writes the blog JL goes Vegan and writes/edits the community blog Stop Chasing Skinny.
This is an article written by one of the incredible members of the SheKnows Community. The SheKnows editorial team has not edited, vetted or endorsed the content of this post.
Want to join our amazing community and share your own story? Sign up here.