The Most Amazing Beef Burgers I've Ever Eaten
For many, many years (probably since we moved to Germany), we have been on a quest for a really good burger recipe. We've tried several that have been tasty, but they were never just right. Some of them were best suited for spreading on the bun and eating it open-faced; others just lacked flavor and excitement.
So my husband finally nagged me enough about making more homemade hamburger buns (which are yummy enough to eat all by themselves) and burgers, which again led me on a quest for a good recipe for beef burgers.
Eventually, I ended up looking in my Southern Living cookbook and found something that sounded interesting. I firmly believe that burgers should only be cooked on a real grill ... but sometimes that's just not practical. These burgers can be made on a grill or in a pan, and they taste absolutely fantastic either way. I have even dreamed about putting little pieces of pre-cooked bacon in them, or a few jalepeno slivers.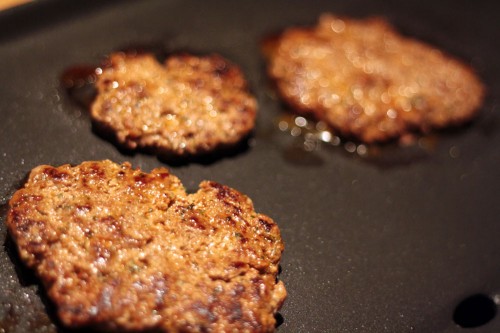 The original recipe actually has caramelized onions on these tasty beef burgers ... but we've yet to try them that way. Instead we just top them with lettuce, a nice slice of beefsteak tomato and a few thinly sliced rings of onions. If we could get sweet vidalia onions, I would definitely put those on there instead ... and in our fryer with batter. Oh yum.
I usually double this recipe and then make extra burger patties to freeze. We eat them up way too quickly, sometimes two nights in a row. If you make buns on the same day, you can re-purpose baking paper as a divider between the patties so they don't become just a big pile of meat in your freezer. Take out however many patties you need for the evening and just let them thaw for a few hours like the hamburger buns. As you can see, I've even made some Mackie-sized patties for our 17-month-old, who absolutely adores these burgers, too.
Most of the hard work is already done for you in that case, and if you cook these burgers in a pan, dinner is ready in no time, which is perfect for weekday meals.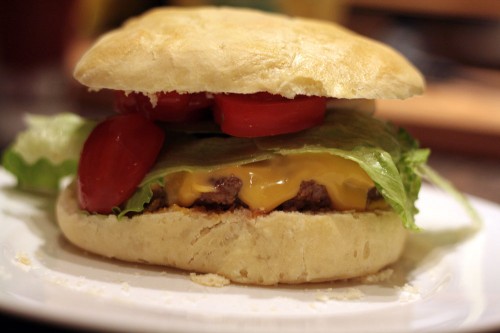 The Best Beef Burgers
Serves 4
Ingredients
1 pound ground beef
1/4 cup chopped fresh parsley
2 tablespoons tomato paste
2 teaspoons Worcestershire sauce
1/2 teaspoon salt
1/4 teaspoon freshly ground pepper
4 hamburger buns
4 slices of cheese
4 tomato slices
Lettuce leaves
Thin rings of onion
Ketchup, mayo and/or mustard
Directions
Preheat oven to 375°F (180°C) (to toast the buns).
Combine ground beef, parsley, tomato paste, Worcestershire sauce, salt and pepper in a bowl and mix well. Shape into 4 patties.
Grill, covered with grill lid, over medium-hot coals (350°-400°F) for 4-5 minutes on each side or until beef is no longer pink. If adding cheese, place it over the finished side of the burger during the last minute or two of grilling so the cheese melts slightly.
If cooking in a pan, place burger patties into medium-sized pan and cook at medium-high heat for several minutes, until side is no longer pink. Flip beef burger carefully, and continue cooking another few minutes until the beef is no longer pink. If adding cheese, place it over the finished side of the burger during the last minute or two of cooking so the cheese melts slightly.
Cut buns in half and place into oven. Bake 2-3 minutes or until lightly toasted.
Serve burgers on toasted buns with lettuce, tomato, onion and condiments.
---
You will find many more great recipes at No Ordinary Homestead where Tiffany Muehlbauer shares not only her adventures in cooking but also in parenting, self-sufficiency, greener living and life in Germany.
This is an article written by one of the incredible members of the SheKnows Community. The SheKnows editorial team has not edited, vetted or endorsed the content of this post.
Want to join our amazing community and share your own story? Sign up here.