This article was written by a member of the SheKnows Community. It has not been edited, vetted or reviewed by our editorial staff, and any opinions expressed herein are the writer's own.
This was Miss Girl's last bento lunch before Halloween! The picture it a little bit sloppy, but the lunch wasn't too bad.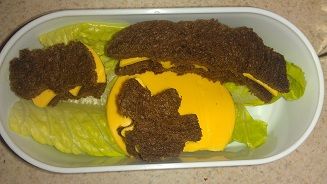 The top tier has a cheese moon, two bat sandwiches of different sizes, and a witch-on-broomstick sandwich.
The bottom tier has a few carrot pumpkins, some broccoli, and a few little apple ghosties.  She had the rest of the apple cut into sticks for a snack.
She actually watched me make this one and liked it..not sure how much got eaten, though.