This article was written by a member of the SheKnows Community. It has not been edited, vetted or reviewed by our editorial staff, and any opinions expressed herein are the writer's own.
BlogHer Bloggers have much to celebrate this week!
Gina, or as we know her, GLRED, had one of her posts pick up by her local newspaper and published as a high profile article. And Gina was told of her success by her friend who lives in Maryland, so what are we all going to do to celebrate!?!?!
We're going to eat CRAB!
'Cause that's what we do here, by the shores of the Cheasapeake Bay.
Way to go, GLRED! Congratulations!!!
Crab au Gratin will make you feel like a Marylander. Welcome!
One of the neatest things I ever did was get a job as a waitress. But, not just as any waitress, although I have been just any waitress since then, for I was a "Phillips Girl." In Maryland, when kids graduate from high school, they all head to Ocean City to celebrate. And so did I. I was eighteen and I loved it at the beach, so I decided to go to Phillips Crab House and get a job. It was a job that would change my life, for many reasons, talking about The Repercussions of Unanticipated Acts, as the topic was discussed on BlogHer.com But, I could make fifty posts about all of that, so it will have to wait, because...
A Phillips Crab House postcard from the early 1970s.

The reverse of the Phillips Crab House postcard above.
...I want to tell you about Maryland Crab au Gratin. When I worked at Phillips, it was on the menu and, as you can see from the prices, that was a while back. Phillips Crab au Gratin was on lumps of back fin crab meat, seasoned as only Phillips could, but I've taken the Phillips Crab Imperial, posted on their web site years ago, and added cheese as an au gratin tribute to favorite Ocean City memories.
A cardboard Phillips Crab House Menu from the early 1970s.
A menu close up showing Crab au Gratin 1970s pricing.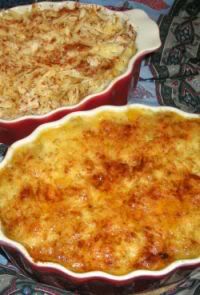 Sunbonnet Smart Heritage Recipes
Crab au Gratin using
Phillips Crab House Crab Imperial Recipe
Click on the photo above for a free recipe PDF!
Compliments of SunbonnetSmart.com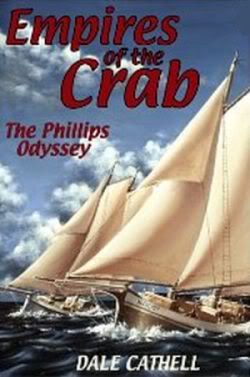 Empires of the Crab, The Phillips Odessy
Early in the last century a boy, Ivy Flowers, swam across Tar Bay to Hoopers Island, Maryland to see a girl.  During the same period, Captain Augustus Elsworth Phillips, Jr. was the captain of the cargo schooner, McCready. Brice Phillips and Shirley Flowers, the children of these two men from the Chesapeake, would marry and have two sons, Steve and Jeffrey. With the family's Hoopers Island packing plant as a base, the Phillips would create a worldwide empire based upon their relationship with the crab. This is the story of that family. It is also the story of the Empires of the Crab.
If you have an interest, clickon this link: Empires Of The Crab
Amazon Review:  "This eloquently written book is more than biography, it is an evocative social-study of one family's travel from a Chesapeake Bay backwater to modernity. Brice and Shirley Phillips were born and raised on a remote island-promontory jutting into the sea on the eastern side of Chesapeake Bay. They grew up in the crab-processing business. While preserving that, they gravitated to the seafood restaurant business, one thing including much hard work led to another, and they prospered. Their son pioneered crab processing in the Phillippines, Malaysia and mainland Asia, and the Phillips enterprise is now respected globally."
SunbonnetSmart.com is authored by a little bird who loves to lure unsuspecting BlogHer bloggers to her web site.