From cookbook author, blogger, and reportedly all-around nice guy Michael Ruhlman comes the ultimate summer challenge for serious cooks: make a BLT sandwich from scratch. Now if you're thinking to yourself, no big deal, I make BLT sandwiches all the time, read on to see why this challenge is for truly serious cooks.
The idea for thie challenge started when Michael wrote about Home Cured Pancetta, and a commenter started talking about being obsessed with making a BLT from scratch. When he announced the challenge, Michael clarified that
"From scratch means: You grow your tomato, you grow your lettuce, you cure your own bacon or pancetta, you bake your own bread (wild yeast preferred and gets higher marks but is not required), you make your own mayo. All other embellishments, creative interpretations of the BLT welcome."
Later he added to the post to say that vegetarian or vegan interpretations of a BLT from scratch are welcome, and they might even get their own category if there are enough entries. You can get more details about specific rules and deadlines from Michael's post on BLT From Scratch - Summertime Challenge, but here are some bloggers who can help you with the individual ingredients.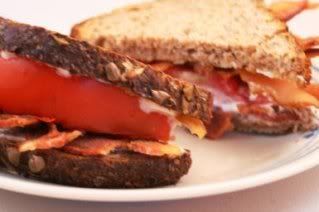 Photo of Not From Scratch Bacon and Tomato Sandwich
from Kalyn's Kitchen.
Make Your Own Bacon:
~Adventures in Homemade Bacon from The Paupered Chef
~How to Cure Your Own Bacon from Caroline at Serious Eats
~Have You Ever Made Your Own Bacon from The Kitchn
~Homemade Bacon from Menu in Progress
Make Your Own Sandwich Bread:
~Sandwich Loaf Bread Recipes from A Year in Bread
~Honey Wheat Whole Grain Sandwich Bread from Apple Pie, Patis, and Pate
~Gluten-Free Multi-Grain Sandwich Bread from Karina's Kitchen
~Buttermilk Sandwich Bread from Cookography
~Gluten-Free Sandwich Bread from Elana's Pantry
~Oatnut Sandwich Bread from Baking Bites
Grow Your Own Tomatoes:
~Growing Tomatoes and How Many Plants Do You Need from In My Kitchen Garden
~Growing Tomatoes in the Greenhouse from The Cottage Smallholder
~It's Time to Start Thinking About Heirloom Tomatoes from Blogher
~Gardening 101: Planting Tomatoes from Blogher
Make Your Own Mayo:
~Mayonnaise: Because I Can't Help Myself from Ruhlman.com
~Homemade Mayonnaise without Tears from Just Hungry
~How to Make Mayonnaise from Cooking Up a Storm
~Homemade Mayonnaise and Egg Salad from The Perfect Pantry
~Homemade Mayonnaise from The Nourishing Gourmet
Hopefully those links will help BlogHer readers who are up for this challenge. However, if you're not quite ready to invest the time for making an entire BLT from scratch, but you've made or bookmarked a good recipe for making bacon, sandwich bread, or mayonnaise, or have tips to share about growing tomatoes, please leave those links in the comments.
Kalyn Denny also writes about food at Kalyn's Kitchen. Kalyn freely confesses she's probably not up to the BLT from scratch challenge since she has never made bacon or mayonnaise and has barely learned to make 100% Whole Wheat Bread in the bread machine, but she does know a thing or two about growing tomatoes.
This is an article written by one of the incredible members of the SheKnows Community. The SheKnows editorial team has not edited, vetted or endorsed the content of this post.
Want to join our amazing community and share your own story? Sign up here.