These jam filled cookies are delcious to eat and pretty to look at.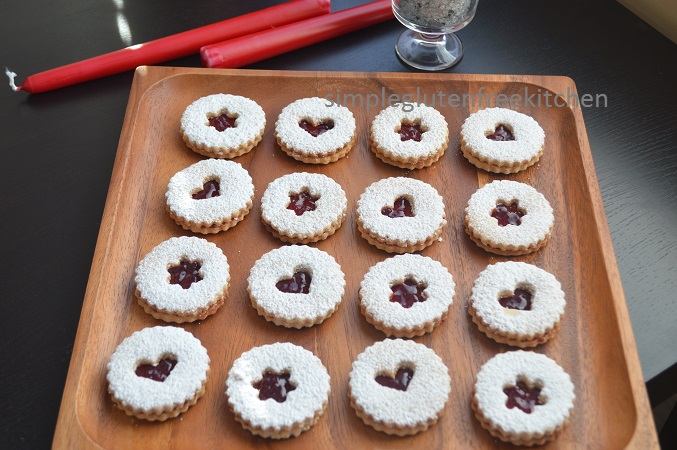 Linzer Cookies
Ingredients
Linzer cookie
1/4 cup butter
1 cup almond meal
1 cup white rice flour mix
1/2 tsp baking powder
1/4 cup sugar
1/4 tsp salt
1 egg
1 tsp pure vanilla extract
Topping
Raspberry or black currant jam
icing sugar for dusting
Instructions
Linzer Cookies
Mix almond meal, white rice flour mix, baking powder and salt in a bowl.
Using an electric mixer, beat butter, sugar and vanilla until light and fluffy.
Add egg beat until mixed.
Turn the mixer on low and add flour, beat until it comes together as a soft dough.
Divide the dough into 3 balls. Cover with plastic wrap and refrigerate until firm for 30 minutes.
Preheat oven to 325°F and set aside two trays lined with parchment paper or silpat.
Remove one ball and roll out between two parchment papers until it is 1/4" thickness.
Using a 2" round or square fluted cookie cutter, cut out cookies. With a spatula, transfer cookies to the prepared sheets, spacing them 1" apart.
Using a smaller cutter, cut centers out of half of the cookies. Repeat rolling and cutting with second and third balls of dough. Gather scraps, re roll and cut.
Bake cookies until edges are golden, 10-12 minutes, rotating halfway through.
Remove tray from oven, cool cookies slightly on the baking sheets, then using a spatula transfer to wire racks to cool completely.
Assemble Cookies
Place the cut out cookies on a baking sheet and lightly dust the tops with powdered sugar.
Spread a thin layer of jam on the flat side (bottom) of each cookie and top with the sugar dusted cut out cookie tops and gently press to seal them together.
Using a small squeeze bottle or piping bag, fill the cut -out with a little more jam.
Store the cookies in an airtight container at room temperature for 5-7 days.
This is an article written by a member of the SheKnows Community. The SheKnows editorial team has not edited, vetted or endorsed the content of this post.
Want to join our amazing community and share your own story? Sign up here.