Lemon Coconut Refrigerator Cake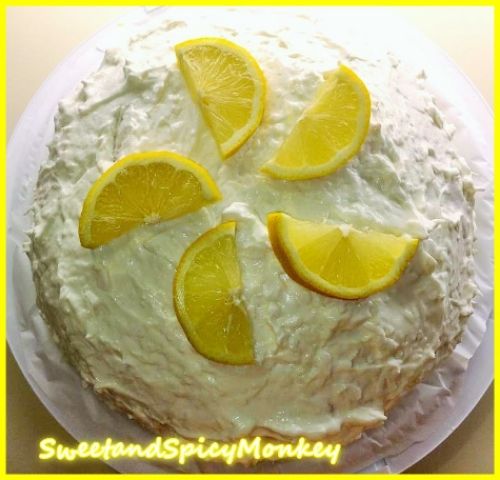 Summer is winding down and for many, this weekend is the last time families and friends will get a chance to enjoy the warm, sunny months together before school and work take priority over life. And I have got the perfect dessert to help make it a memorable time for everyone, my Lemon Coconut Refrigerator Cake.
From the time I made this back in May, people have been raving about it. And since this yummy cake started off my summer, what better way to end it than with this summer favorite. I hope y'all get a chance to enjoy this deliciously light and creamy dessert while you soak up the last rays of the summer sun with your loved ones.
You had to have known that it was only a matter of time before I combined two of my favorite latest cravings, lemon and coconut. And what better way to combine them than to make a lemon coconut refrigerator cake where the two flavors can mingle with each other over time.
This cake is similar, yet it differs from my last coconut cake. Yes, it's a refrigerator cake, but I used lemon cake mix along with my homemade lemon pudding...YUM! I also switched the granulated sugar in the frosting to a powdered sugar, which doesn't make it as runny as the original frosting. The result is a deliciously moist lemony cake with a light and creamy coconut frosting that will have you asking for seconds....and maybe thirds....and fourths!
As before, the cake gets better the longer it sits in the refrigerator. With its flavors peaking on the third day and becoming even more so delicious by the fifth and sixth day (if you can keep from eating it all by then).
If you thought the refrigerator coconut cake from last month was amazing, you ain't had nuthin' yet until you try my Lemon Coconut Refrigerator cake! As they say in the South, this cake tastes so good it'll make you wanna slap your momma!
 Lemon Coconut Refrigerator Cake
Cake Ingredients
1 – boxed Lemon cake mix
3 large eggs
½ cup cream of coconut (found in the drink mixer aisle)
1 and ½ cups canned coconut milk
¼ cup fresh lemon juice
Frosting Ingredients
1 – 16 ounce container sour cream (approximately 2 cups)
1 – 8 ounce container Cool Whip
1 cup powdered sugar (confectionary)
½ teaspoon coconut extract
3 and ½ to 4 cups flaked, sweetened coconut
Click here for my Homemade Lemon Pudding recipe.
Directions
Make lemon pudding at least 3 hours ahead of time so the pudding can thicken up while its chilling.
Preheat oven to 350F degrees.
Lightly spray three, 9 inch round cake pans with non-stick cooking spray and dust with flour, making sure to coat entire inside of pan with flour. Shake out excess flour. Set aside.
In a large mixing bowl, combine dry cake mix, cream of coconut, 1 and ½ cups of coconut milk, lemon juice, and eggs. Using a handheld mixer, blend for approximately 2 minutes, making sure to scrape sides of bowl with spatula every now and then. Batter should look well blended.
Spread batter evenly among your 3 prepared cake pans. Approximately 1 and ½ cups batter each pan. Smoothing tops of batter with a spatula in each pan.
Place pans in preheated oven and bake for 19-24 minutes or until tops are lightly browned and toothpick comes out clean.
Remove pans from oven and let cool for 5 minutes. After 5 minutes, run a butter knife around edges of pan to help loosen cakes and turn pan over on wire rack and gently remove cake from pan. You might have to tap the bottom to help loosen cakes from pan.
Let cakes cool completely on wire rack. After cakes are completely cooled, gently cut the cakes into half, using a large serrated blade or a piece of string. Leaving you with 6 layers of cake.
Prepare your cakes for frosting by applying generous amounts of the Cream of coconut over the tops of the cakes. You can either brush it on or use a spoon to place the Cream of coconut on the cake and spread with bottom of spoon. (I used approximately ¾ cup to 1 cup of the Cream of coconut for this step).
While cakes are absorbing the Cream of coconut, gently fold powdered sugar into the sour cream in a large mixing bowl.
Add in flaked coconut and blend thoroughly. Gently fold in Cool Whip.
Place bowl in refrigerator for 15 minutes to chill. **You will have plenty of frosting mix and it will have a "runny" appearance. This is so it can be absorbed into the cake layers while it sits in the refrigerator.**
To make your cake, place one cake on serving platter, top side up. Generously spread chilled lemon pudding over cake layer on serving platter, followed by a layer of frosting. Place halved cake layer over frosting, and apply another generous layer of pudding, followed with frosting over cake. Repeat this process with remaining layers of cake, pudding, and frosting. Frosting the top of cake once assembled and then the sides of the cake.
Cover cake and place in refrigerator.
Cake is best after it sits for at least 2 days and longer in the refrigerator while it absorbs the frosting.
 *Helpful Hints*
- Cake will bake in oven at 350F degrees.
- Do NOT make cake as directed on box. Cream of Coconut is replacement for the cooking oil.
- Pour contents of cream of coconut into a small mixing bowl and stir before using. This helps to combine all canned ingredients better since it separates while in the can.
- Frosting will appear "runny". It's that way so the cake layers can absorb the flavors as it sits in the refrigerator.
- This cake must be refrigerated as the frosting will sour and become runnier if left out at room temperature.
- Cake will last up to 1 week in the refrigerator (but it will most likely be gone by then).
- You can soak some lemon slices in Myer's lemon syrup while making the cake and place on top while it sits in the refrigerator. This gives a sweet lemon taste to the top frosted layer.
All content and images are property of Sweet and Spicy Monkey. Please do not reprint this content without my permission. If you wish to include this recipe on your site, please re-write in your own words and use your own photographs and link back to this post for original recipe.
Julie
This is an article written by one of the incredible members of the SheKnows Community. The SheKnows editorial team has not edited, vetted or endorsed the content of this post.
Want to join our amazing community and share your own story? Sign up here.