For months the food world has been abuzz with opinions about Julie and Julia, the long-awaited movie based on the life of food legend Julia Child and writer Julie Powell, famous for cooking and blogging her way through Julia's cookbook, Mastering the Art of French Cooking. I saw the movie yesterday afternoon in Salt Lake City with a bunch of local food bloggers, in an audience that included many women from the era of Julia Child's TV show. There was laughter during the show, and applause when it ended, and as we walked out of the movie, our food blogger crowd was in complete agreement about one thing: we loved Meryl Streep as Julia Child.
Our feelings about Julie Powell were a bit less enthusiastic, but also mostly pretty positive. That may seem surprising, since some critics seem bound to prove that many bloggers have taken offense with Julie Powell and her attempt to re-define herself as a "writer" rather than a "blogger" now that she's a published author. Truthfully as I watched the movie, I found myself feeling a bit sorry for her.
I wasn't ever a cook with a strong connection to Julia Child. Although I participated once in the yearly food blogging event held on her birthday, I'm not sure I ever remember seeing her on TV other than snippets in news stories, and I only recently read My Life in France, in anticipation of the movie. Still, as I watched this movie, Julia came alive for me. I wept when she told her husband through tears that her younger sister was pregnant. I loved the scenes of Julia laughing and eating with gusto, and cheered for her when she finally received news that Mastering the Art of French Cooking was going to be published. Julia Child may well be the most successful female cook ever, and this movie left me feeling certain that she was a remarkable person who deserved every bit of success and attention that came her way.
In my opinion, Hollywood was much less kind to Julie Powell. As I watched the movie I found myself wishing I had read the blog, so I would know if Julie really described her year-long project as "a regimen" or referred to herself as "a bitch." Of course, I had heard about her penchant for the F-bomb (which didn't make it past her lips in the movie) but everything I knew about her blogger persona didn't bring me to expect her crying on the kitchen floor in a tantrum when her aspic was dropped. There were Julie moments in the movie I could certainly relate to as a blogger (such as when she got her first comment, which turned out to be from her mother) but as a cook, I found myself wondering why her accomplishment of cooking every recipe from such a challenging cookbook seemed taken for granted. Julie Powell herself has said that Julie in the movie is definitely not her, and as I watched this movie, mostly I wondered why Julie's story about blogging Julia Child's recipes as a way to bring meaning to her life couldn't have been portrayed in a way that acknowledged Julie Powell's weaknesses, but gave more credit for her accomplishments. Whether we like her or not, not many cooks or bloggers could have done what she did in that tiny New York kitchen, and her ability to build a community of people who followed along on her blog certainly helps the world at large to understand the appeal of food blogging. And even if none of that was enough, Julie helped to bring Julia Child's life to the big screen, something that every lover of fine cooking can be happy about.
Of course, when food bloggers get together, it's mostly about the food, so let's move on to the dishes we enjoyed at our pot-luck after the movie, plus movie reactions from the other Utah bloggers and links to lead you to other reactions to Julie and Julia from around the web.

My photo doesn't do it justice, but Donna from Fab Frugal Food made Julia Child's famous almond cake from Mastering the Art of French Cooking, supposedly Julia Child's favorite cake. Regarding the movie, Donna says "I found Meryl Streep's Julia very inspiring. She took what life gave her and made it enough." On her blog, Donna writes "Thank You Julia. And Paul."

There were delicious cookies from Barbara of Barbara Bakes, who thought the movie was "very inspiring" and says "I want to run out and buy Mastering the Art of French Cooking."

This platter of delicacies including smoked salmon, goat cheese, capers, onions, and crackers, was created by Gabi from The Feast Within, who says "I wish I could have been at the Cordon Bleu with Julia. I loved the scene where she chopped a literal mountain of onions, and loved being immersed in the story of Julie and Julia."

Maria from Two Peas and Their Pod brought this amazing Peach Almond Cake. Maria thought "Meryl did a fabulous job playing Julia" and says "The scene where Julia met her long-time pen pal reminded me of the food blogging community. My blogging friends are some of my closest friends, even though I haven't met them in person."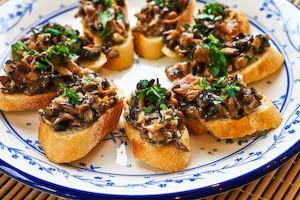 Finally, although it's not a Julia Child recipe I'm sure Julia would have loved the cream-simmered Mushroom Crostini from Dara of Cookin' Canuck. Dara says "Meryl Streep captured the fabulous kookiness of Julia Child perfectly. I found myself missing her exhuberance and tour de force personality as I watched the movie."
My apologies to Holly from Phemomenon, because after the party was over I realized I forgot to take a photo of her food! Holly missed the movie, but enjoyed the party. We were also joined at the movie by Deseret News food editor Valerie Phillips who said, "I've not read Julie Powell's blog or book. But I did a phone interview with Julia Child during her 90th birthday celebration, I've read her memoirs and cooked from her cookbooks, and I've also met and interviewed key players in Child's life, so I loved to see so much of Julia's life captured in the movie. I found myself giggling every time Streep came on the screen!"
More Julie and Julia Around the Web:
~I urge BlogHer readers to Cook Something Inspired by Julia Child
~Fourth Annual Julia Child birthday event for food bloggers on August 15
~Michael Ruhlman talks about Julie and Julia, Foodie and Cook
~At Accidental Hedonist, Kate talks about whether food bloggers owe Julie Powell a debt of gratitude
~Foodie Reflections talks bout How Julie and Julia Hit Home
~Always Order Dessert gives us An Edible Movie Review
~"Skip the movie and come to France ," says Kate Hill in her Un-review of Julie and Julia
~Cookbook author and blogger Dorie Greenspan knew Julia and is sharing Tales of Julia, with Part One and Part Two posted so far.
Of course everyone has their own favorite Julia Child moment, so please share yours in the comments. And if you've seen the movie, how did you like it?
Kalyn Denny also blogs at Kalyn's Kitchen, where she's focused on low-glycemic recipes using fresh ingredients. In honor of Julia and the movie, she recently made French Pistou Sauce for the Freezer.
This is an article written by a member of the SheKnows Community. The SheKnows editorial team has not edited, vetted or endorsed the content of this post.
Want to join our amazing community and share your own story? Sign up here.