I love this time of year when summer hasn't quite changed into fall and gardens are bursting with vegetables. No matter if you have a garden or are buying from a farmer's market, the plentiful produce combined with perfect weather for being outside makes cooking vegetables on the grill such a delight. And of course, grilled vegetables are wonderfully flavorful. If you don't have an outside grill, you can also make grilled veggies on an electric grill or stove-top grill pan. If' I've convinced you to try veggies on the grill, here are a few tips, plus some recipes to get you started.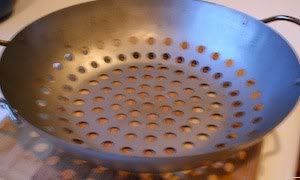 Photo of Grill Pan
from Kalyn's Kitchen.
General Tips for Grilling Vegetables
Just about any vegetable can be cooked on the grill, especially if you have a handy grill pan like the one shown above. That kind of pan will allow you to cut the vegetables in smaller pieces, but vegetables cooked directly on the grill grates will brown better. Cut vegetables into halves or slices for most grilling recipes, taking care to make the pieces the same size so they cook in the same amount of time. You can prepare vegetables for grilling simply by brushing them with olive oil, but many vegetables benefit from marinating before they're grilled. Dried seasoning blends are also a good way to add flavor to grilled vegetables.
Before you grill any foods, you should lightly oil the grill so foods don't stick. Most experts recommend folding a paper towel, dipping in oil, and holding the folded towel with tongs to wipe oil on the surface of the grill, but I'm guessing that plenty of home cooks also spray oil or non-stick spray right on the grill with good results. Once the grill is oiled, preheat to the desired temperature before putting on the vegetables. I cook most vegetables on high heat, which means you can only hold your hand above the grill surface for 1-2 seconds.

Photo of Summer Squash
from Kalyn's Kitchen.
What Garden Vegetables are Suitable for Grilling?
I'm sure there's a long list of things that creative gardeners have cooked on the grill, but the three garden vegetables I think are most suitable for grilling are green or yellow summer squash, eggplant, and winter squash. These vegetables are big enough to grill in slices, and all taste great with a bit of charred flavor from the grill. Until a few years ago, zucchini was the one vegetable I grilled most, but then I tried grilled eggplant and grilled butternut squash and now I'm sold on cooking those on the grill too.

Photo of Grilled Zucchini
from Life's Ambrosia.
Ideas for Grilled Zucchini or Summer Squash
For an easy recipe to get you started, Life's Ambrosia has a basic recipe for Grilled Zucchini seasoned with a purchased spice blend. Another recipe that looks easy but tasty is the Grilled Zucchini, Yellow Squash, and Onions from The W.H.O.L.E. Gang. If you have a little more time, This Mama Cooks has Grilled Zucchini and Yellow Squash with Sun-Dried Tomato Pesto. I also like the Spicy-Sweet Grilled Summer Squash from Seasonal Eats. For two more ideas I think sound interesting, Rice and Beans in D.C. turns the grilled zucchini into Grilled Zucchini Wraps with Pineapple and Smoked Paprika and Fab Frugal Food makes drool-worthy Lemony Zucchini Roll-Ups
.

Photo of Spicy Grilled Eggplant with Red Pepper, Parsley, and Mint
from Kalyn's Kitchen.
Ideas for Grilled Eggplant
I think eggplant has a natural affinity to garlic, and the Grilled Chinese Eggplant with Ginger and Garlic Sauce from Andrea's Recipes sounds like a recipe I'd love. Ditto for the Grilled Baby Eggplant with Korean Barbecue Sauce from Fat Free Vegan Kitchen or the Grilled Eggplant with Tahini-Yoghurt Dressing from Morsels and Musings. Buff Chickpea has Grilled Eggplant Parmesan that looks intriguing. If you want to impress guests, the Grilled Eggplant and Goat's Cheese Towers from Closet Cooking should do the trick. Finally, the recipe that turned me from slightly eggplant-resistant to a complete eggplant fan was Spicy Grilled Eggplant with Red Pepper, Parsley, and Mint (pictured above.)

Photo of Sweet and Sour Grilled Pumpkin
from Pinch My Salt.
Ideas for Grilled Winter Squash
In Europe all winter squashes are called pumpkin, so let's start with the absolutely delightful looking Sweet and Sour Grilled Pumpkin from Pinch My Salt (pictured above). At Lucullian Delights, Ilva uses a stovetop grill for her Grilled Winter Squash and Pancetta Salad. Dawn has a good idea at Dawn's Recipes, roasting squash in a pan on the grill for Grill-Roasted Butternut Squash. At Serious Eats, Joshua grills half a squash for his take on Grilled Acorn Squash with Asiago and Sage. Finally, at Herivoracious, the Achiote-Rubbed Butternut Squash Tacos may be the most unique recipe I've seen for grilled winter squash.
What garden vegetables do you like to cook on the grill? As always, if you have a good idea or a recipe link to share, please chime in with a comment.
Kalyn Denny also blogs at Kalyn's Kitchen, where she's focused on creating low-glycemic recipes using fresh ingredients. Kalyn loves grilled veggies of all types, but especially Grilled Zucchini.
This is an article written by one of the incredible members of the SheKnows Community. The SheKnows editorial team has not edited, vetted or endorsed the content of this post.
Want to join our amazing community and share your own story? Sign up here.