I've been Cooking with Fresh Herbs for about 20 years now, and last year on BlogHer I wrote a series of posts with growing tips and recipe ideas for twelve different herbs. I hadn't thought of writing about herbs again this year until someone told me on Twitter that I should write a post about starting an herb garden for people who want to try growing herbs for the first time. Truly, most herbs are so easy to grow that everyone should be doing it, so if you've never grown your own herbs, or haven't planted any yet this year, this post is my reminder for you to plant some herbs while there is still time.
Many herbs can be easily grown from seed, but if you're a first-time gardener I'd recommend a trip to the garden center where you can find a large variety of herb seedlings that are ready to put in the ground. Before you buy those herb plants though, here are a few tips to consider.

Photo of Tarragon from Kalyn's Kitchen,
Tip #1 for Growing Herbs: Location, Location, Location
Most herbs and vegetables prefer a location that gets sun for the major part of the day, so think about that when deciding where to plant your herbs. In my experience basil, rosemary, parsley, oregano, sage, and thyme prefer sun, while mint, dill, cilantro, chives, and tarragon will tolerate some shade. You may find different opionions about herbs that will grow in the shade because it partly depends on the climate in your area.
Tip #2 for Growing Herbs: Start with Good Soil
Plants grow best in soil that's naturally rich from decomposed plant matter mixed with the soil. Most herbs don't need much added fertilizer if you start with good soil. Farmers use manure or composted plants to add richness to the soil, but if you're a city dweller, any garden center will sell products designed to mix into the soil. (This is the most labor intensive part of planting a garden if you're doing it by hand, but well worth the effort.)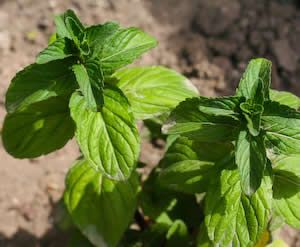 Photo of Mint from Kalyn's Kitchen.
Tip #3 for Growing Herbs: Plants Need Water to Survive
Maybe the hardest thing about gardening is developing a sense about how often to water, but in general most plants will tolerate letting the soil dry out between waterings, as long as it doesn't stay dry for too long. I water my herbs and other garden plants about every 2 days at the beginning of the season, and cut back to every third or fourth day by midsummer, but how often you need to water will depend on where you live. Ask at the garden center for advice about watering in your area.
Tip #4 for Growing Herbs: Know What Type of Plant You Want
If you're planting your herbs into a permanent garden, be aware that herbs can be perennial plants that come back every year, biennial plants that have a 2-year growing season, or annual plants that only grow for one season and have to be planted again each year. This piece on Herbs for Beginners has a pretty good list of herbs telling what kind of plant each one is. Be careful about mint, which is not only a perennial but will spread out and overtake other plants if it's not contained in a pot or by using a plastic barrier.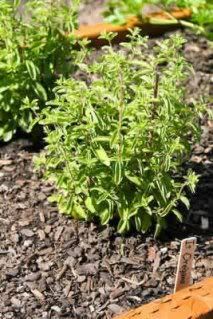 Photo of Italian Oregano from Kalyn's Kitchen.
Tip #5 for Growing Herbs: Start with Herbs You Love to Eat
It's ironic that I'd give that tip, because my very favorite herb is one that I've never been able to grow successfully in the hot summers of Utah. Still I think it makes sense to concentrate your efforts on growing the herbs you use most in cooking. If I had to speculate, I'd guess the most popular herbs for home gardeners are basil, rosemary, mint, dill, and thyme, but I could be missing the one you love the most.
More Tips on Growing Herbs from Other Bloggers:
~How to Grow Culinary Herbs and Plants without a Yard (in containers) from Baking and Books
~Never Buy Fresh Herbs Again from A Veggie Venture
~Victory Garden Herbs from White on Rice Couple
~How to Grow Herbs Indoors from Chow
~Window Box Herb Gardening from The Cooking Adventures of Chef Paz, guest post by Lydia from The Perfect Pantry
Some Recipes Where Fresh Herbs Play a Starring Role:
~Chive and Goat Cheese Biscuits from A Mingling of Tastes
~Kay's Chicken Soup (with oregano) from Kayotic Kitchen
~Peas with Proscuitto and Mint from Mele Cotte
~Rice Salad (with dill) from Kalofagas
~Basil Pesto from The Perfect Pantry
~Perfect on Steak - Lemon Parsley Sauce from Sarah's Cucina Bella
More Ideas for Cooking with Herbs
~You can find recipes for twelve different herbs in my series of posts about Cooking with Fresh Herbs.
What's your favorite herb, and have you ever tried growing it? If you have tips about growing herbs or cooking with them, please share in the comments.
Kalyn Denny also writes about food at Kalyn's Kitchen, where she loves to use herbs in dishes like Chicken with Tarragon-Mustard Pan Sauce and Cannellini Beans with Mint Marinade.
This is an article written by a member of the SheKnows Community. The SheKnows editorial team has not edited, vetted or endorsed the content of this post.
Want to join our amazing community and share your own story? Sign up here.