Italian Chicken Sausage, Beans, and Escarole…All in One Pot!  This is a delicious and hearty meal for those cold days ahead.  Serve it with a crusty loaf of bread and a robust red wine.  I know you'll love it!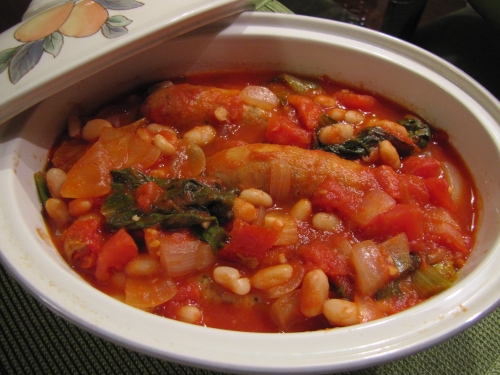 Image:  Courtesy of Jodee Weiland
When I was growing up, it was not unusual for my parents to cook one of my favorites, escarole and beans. I loved this dish, and I usually didn't care what else was being served with it. As an adult, I realized that other people do care, and many of those who do, like a nice sausage, meat, or fish of some sort with it. So I decided to do escarole and beans in a red sauce with Italian sausage. The best part of this dish is that Italian Chicken Sausage, Beans, and Escarole is cooked all in one pot!
Read more at Learn from yesterday, live for today...
This is an article written by one of the incredible members of the SheKnows Community. The SheKnows editorial team has not edited, vetted or endorsed the content of this post.
Want to join our amazing community and share your own story? Sign up here.