Thanksgiving is the most food-centered holiday of the year, which means food writers all want to weigh in on it. Every year newspapers, food magazines, food sites, and food blogs all offer tips, suggestions, and menu ideas for the big day. For a few weeks now I've been watching for Thanksgiving advice to show up on my favorite food blogs and food sites.
The links I've collected here can help BlogHer Readers navigate the web to find what they need to know about cooking their Thanksgiving meal, whether it's traditional turkey with stuffing, vegan, gluten-free, low-glycemic, or diabetes friendly.
General Tips for Thanksgiving Dinner Preparations
From Sarah's Cucina Bella ~ A Guide to Planning Thanksgiving in Five Days
From Mashable ~ How to Prepare Thanksgiving with Help from the Web
From Baking Bites ~ Holiday Hotlines Offer Baking Help
From Daily Unadventures in Cooking ~ Tips for Cooking Thanksgiving Dinner
From $5 Dinners ~ Thanksgiving - Your Plan Ahead Guide
From Life as Mom ~ Thanksgiving on a Budget
From About.com ~ List of Holiday Hotlines for Help on the Phone
From Tipnut.com ~ Thanksgiving Helpers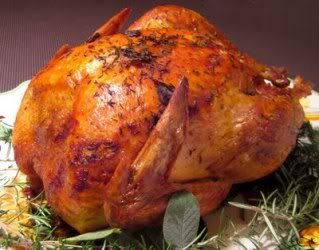 Photo of The Perfect Thanksgiving Turkey
from My Own Sweet Thyme
Tips for Cooking Turkey:
From What We're Eating ~ Turkey Cooking Basics
From My Own Sweet Thyme ~ The Perfect Thanksgiving Turkey
From Half Assed Kitchen ~ The Martha Turkey
From Baking Bites ~ The High Heat Turkey Method
From Better Homes and Gardens ~ Turkey Roasting and Carving 101
From Kitchen Parade ~ How to Roast a Whole Turkey

Photo of The High Heat Turkey Method
from Baking Bites
Traditional Thanksgiving Recipe Collections:
From Umami Girl ~ Holiday Recipes Round-Up: Thanksgiving
From Erin Cooks ~ Thanksgiving's Greatest Hits
From Kitchen Parade ~ Six Thanksgiving Menus
From A Veggie Venture ~ Thanksgiving Vegetable Recipes and Vegetarian Main Dishes
From I Ate a Pie ~ Healthy Thanksgiving Menu Plans
From BlogHer ~ Homemade Dinner Rolls to Try Out Before Thanksgiving
From BlogHer ~ BlogHer's Top Ten List of Thanksgiving Side Dishes
From BlogHer ~ Thanksgiving-Worthy Brussels Sprouts to Take on a Trial Run
From BlogHer ~ The Great Thanksgiving Pie Challenge
From My Online Meals ~ Martha Stewarts Thanksgiving Recipes
From Serious Eats ~ Pumpkin Pie Alternatives for Thanksgiving
From Mark Bittman in the N.Y. Times ~ Things to Prepare Before the Turkey Goes in the Oven
From The Washington Post ~ Holiday Recipes from the Food Section
From Saveur.com ~ Thanksgiving Recipes and Menus
From Better Homese and Gardens ~ Thanksgiving Recipes

Photo of Vegan Stuffing
from Happy. Healthy. Life.
Non-Traditional or Special Diet Thanksgiving Recipe Collections
From Karina's Kitchen ~ Thanksgiving Recipes and Tips for Gluten-Free and More
From Happy. Healthy. Life. ~ Vegan Thanksgiving 101
From Happy. Healthy. Life. ~ A Vegan Recipes Series for Thanksgiving
From Cooking in Color ~ Vegan Thanksgiving Ideas
From Cheap Healthy Good ~ Vegetarian Thanksgiving Tips, The Main Dish and The Sides
From A Year of Slow Cooking ~ A Gluten Free or Allergy Free Thanksgiving
From Kalyn's Kitchen ~ Low Glycemic Menu Ideas for a South Beach Diet Thanksgiving 2009
Thanksgiving Safety Tips:
From Blue Kitchen ~ Thanksgiving Fire Safety Tips
That's a lot of Thanksgiving information, but no one can possibly find all the good Thanksgiving posts that show up in a year. If you posted a Thanksgiving round-up, or even one or two of your favorite Thanksgiving recipes, please share with a link in the comments!
Kalyn Denny also blogs at Kalyn's Kitchen, where she's focused on creating low-glycemic recipes using fresh ingredients. Kalyn rarely makes dessert, but for Thanksgiving she'll be making Low Sugar Cheesecake Pumpkin Pie this year.
This is an article written by a member of the SheKnows Community. The SheKnows editorial team has not edited, vetted or endorsed the content of this post.
Want to join our amazing community and share your own story? Sign up here.