I Don't Always Make Greek Food, but When I Do, I Make...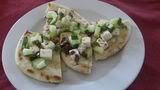 I'm not one of those people who brags about eating ethnic food - or rather, mentions it passively in order to make an impression, i.e. "so yeah, we went to Target and picked up some toothpaste before we stopped for some Pho" (if you prefer, alternate that with Indian, Cuban or Greek). Then again, maybe if I actually ate more ethnic food, I'd brag about it more.
I have, however, fallen in love with a few Greek-inspired dishes that I enjoy solo at lunch time, one of which I will share with you here because it's the easiest Greek lunch you could possibly make for yourself. I have no idea if it has a proper name, because I'm that un-elitist in this arena. If not, just file it under "Things to do with Pita Bread."
- 1 pita bread slice
- 1/2 cup feta cheese cubes
- 1/4 cup kalamata olives, pitted and chopped
- 1/2 cup cucumber, chopped
- 2 tbs. olive oil
Cut pita bread into fourths. On a heated skillet, drizzle one tablespoon of the olive oil. Place the cut pitas on the skillet and cook over medium heat for one minute per side. Remove from skillet and arrange feta cheese, olives and cucumber on top. Drizzle with olive oil. Enjoy!
This is an article written by one of the incredible members of the SheKnows Community. The SheKnows editorial team has not edited, vetted or endorsed the content of this post.
Want to join our amazing community and share your own story? Sign up here.