How to Make Vegetable, Meat, Chicken, or Fish Stock and Five Reasons You Should Be Doing It
Most people who love to cook are pretty committed to making their own stock or broth, and I've been making homemade stock as long as I can remember. Now mind you, I'm not one of those cooking snobs who turns their nose up at the mere mention of canned broth, but I do love being able to pull a container out of the freezer whenever I need vegetable, chicken, beef, turkey, ham, or fish stock. Still, even though I'm sold on the joys of homemade stock, I'm guessing some of you might wonder why making homemade stock is so great, so let's start with the five reasons you should be making your own stock.
First, just to make sure people aren't confused about it, I usually say *stock* and not *broth* but I'm using the words interchangeably in this post. Although cooking experts do talk about the differences between stock and broth, I think most people think of them as being the same. I have noticed that store-bought products are more likely to be called *broth* while homemade versions are most often called *stock* but even that isn't always true.
Reason #1 to Make Your Own Stock: Homemade Stock has Much Better Flavor
For me, the flavor of homemade stock is probably the main reason I'm so enthusiastic about making it, but if you haven't made stock yourself you probably can't imagine how much better homemade stock tastes compared to most any kind of commercial product. Flavor is the reason why so many cookbook authors start their books with a chapter about making stock. Nothing beats the flavor of homemade stock.
Reason #2 to Make Your Own Stock: Making Stock is Frugal
We're currently in an economic climate where just about everyone is watching their pennies more than usual, and making stock yourself is incredibly frugal compared to buying stock or broth in a can or carton. The stock-making habit starts with saving scraps of meat, bones, vegetables, and fish in separate containers in the freezer until you have enough to make a batch of stock, so you're making stock mostly with food that would have been thrown away. Many butchers also sell soup bones, chicken feet, and other meat scraps for very little money, and these are perfect for making stock. Even if you use fresh carrots, celery, and onions, or add a bit of flavor concentrate to your stock as I sometimes do, you can still make a huge batch of stock for very little money.
Reason #3 to Make Your Own Stock: Making Stock is Eco-Conscious
Besides being a good way to use things that would have been thrown away, when you make stock at home you don't have to buy products that come in cans, bottles, or cartons. Every time you make homemade stock, you're doing a small bit to help the environment. I've invested in a set of containers to freeze my homemade stock in, and I re-use them over and over again to keep my stock in the freezer.
Reason #4 to Make Your Own Stock: Homemade Stock Doesn't Have Chemicals or Additions You Don't Want In Your Food
When you make stock yourself, you control what goes into it. This is especially important for people trying to control sodium, because commercial stocks and broths often have far more sodium than most people want. Making stock is a great cooking habit for people with food allergies because when they use homemade stock, they'll know it won't have ingredients that might be harmful to them. Vegetarians can make vegetable stock to be sure it doesn't contain meat products. If you're a mother who's trying to cut down on processed foods, making stock is a great place to start.
Reason #5 to Make Your Own Stock: Making Stock Makes Your Kitchen Smell Great!
Certainly the reasons for making homemade stock listed above are more important, but for me the wonderful smell of stock bubbling away on the stove all day is an extra bonus in the process of making stock. Of course, the stock makes itself itself while you're doing other things, and for the entire day your house will be filled with a wonderful aroma, reminding you of the great flavor the homemade stock will add to every dish you use it in.

Tips to Get You Started if You've Never Made Stock:
I'm going to start with general tips that might be good to know if you've never made stock before. When you're ready to make some stock, check below for some specific recipes from food bloggers.
~Start your journey into the glories of homemade stock by developing a habit of saving meat and/or vegetable scraps in the freezer whenever you're cooking.
~Especially for beef stock or vegetable stock, consider the step of roasting the meat and/or veggies first to add extra flavor.
~It's great to have a large stock pot so you can make enough stock at a time to make it worth your while.
~Two tools that are definitely nice to have include a metal skimmer (looks like a ladle with wire mesh and is used to skim off the foam that rises to the top of the pot while stock is cooking) and a fat separator (glass or plastic container with a spout that comes from the bottom so you can pour out broth and keep the fat in the container, my fat separator is pictured above.) However, you can definitely still make stock with just a pan and a spoon.
~If you refrigerate the stock overnight before freezing it, the fat will come to the top and you can scoop it off and throw it away.
~Freeze stock in the size you'll use for cooking to make it extra handy. I have containers that hold 1 quart and others that hold 2 cups, so I always know which size to grab from the freezer. Freezing some of the stock in ice cube trays, then putting the frozen cubes in a plastic bag is also a handy way to do it.
~Most types of stock benefit from long, slow cooking all day, but vegetable stock and fish stock cook much more quickly.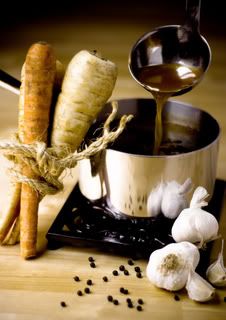 Vegetable Stock or Broth
~Homemade Vegetable Broth (pictured above) from Vegan Yum Yum
~Tips for Saving Vegetables for Stock (and ones to avoid) from The Kitchn
~Vegetable Stock from Andrea's Recipes
~Roasted Vegetable Stock from Well Fed
~How to Make Your Own Vegetable Stock from Lisa's Kitchen

Chicken Stock or Broth
~Making Stock - The Good, the Bad, and The Ugly from Tigers and Strawberries (pictured above)
~How to Make Stock from Chicken Feet from Simply Recipes
~How to Make Homemade Chicken Stock from Daily Unadventures in Cooking
~Homemade Chicken Stock from The Perfect Pantry
~How to Make Chicken Stock from Kalyn's Kitchen

Beef Stock or Broth
~How to Make Beef Stock from Kalyn's Kitchen (pictured above)
~How to Make Beef Stock from Nook and Pantry
~Beef Stock from The Slow Cook
~Overnight Beef Stock (roasted first, then cooked in slow cooker) from Sidewalk Shoes
~Basic Recipe for Brown Stock from Whisk: a Food Blog

Turkey stock or Broth
~Homemade Turkey Stock from Modern Beet (pictured above)
~How to Make Turkey Stock from Kalyn's Kitchen
~Thanksgiving: The Best Time to Make Stock from Michael Ruhlman
~Turkey Stock from Cooking by the Seat of My Pants
~Basic Turkey Stock from The Gracious Bowl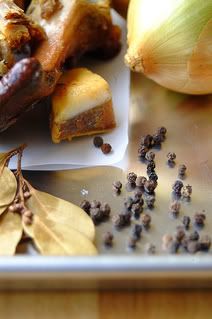 Ham Stock or Broth
~Ham Stock from 80 Breakfasts (pictured above)
~Ham Stock from 101 Things Every Cook Should Cook
~Ham Hock, Barlotti Bean, and Kale Soup Recipe with instructions for Ham Stock from Book the Cook
~Ham and Bean Soup (using ham stock) from Seriously Good
~Baked Bean Style Bean Soup (and instructions for making ham stock) from Seasonal Ontario Food

Fish Stock or Broth
~Fumet de Poisson (Fish Stock with wine) from Whisk: a Food Blog (pictured above)
~How to Make Shellfish Stock from Simply Recipes
~Fish Stock from Foodista
~Fish Stock from The Schell Cafe
~Dashi Stock from Just Hungry
If you like to make your own stock, let us know about it in the comments, and please share soup recipes that use homemade stock if you have a good one.
Kalyn Denny shares her passion for low-glycemic cooking at Kalyn's Kitchen, where she always tries to have homemade stock in the freezer.
This is an article written by a member of the SheKnows Community. The SheKnows editorial team has not edited, vetted or endorsed the content of this post.
Want to join our amazing community and share your own story? Sign up here.