I have a few delicate glass pieces that always make me nervous in the dishwasher. Normally, I wash these by hand because I have this fear that they will get knocked over and break…
I don't know what would happen to my dishwasher if a glass broke mid-cycle but I imagine it wouldn't be pleasant.
My other problem is that I tend to be lazy and I don't want to hand wash stuff… that's what a dishwasher is for. (I can't tell you how many times I've had this exact argument with my mother growing up).
I think I saw this tip on Pinterest but I can't be sure. All I know… is that it's brilliant. Someone with a lot more common sense than I have came up with this…
God bless the internet.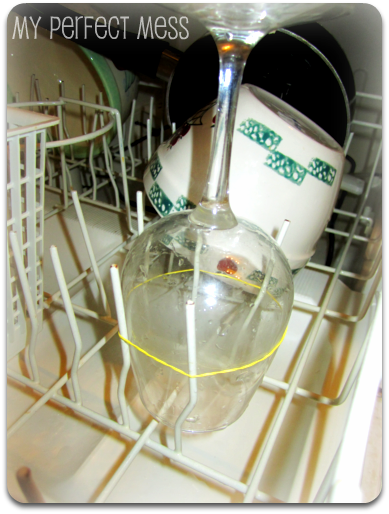 That is a rubber band keeping the glass secure.
Genius!
The rubber band held it firmly in place for the entire cycle and…. I didn't have to hand wash these glasses!
I am all about making life easier… even if it's only not having to hand wash a few glasses.
-Mandi Miller
This is an article written by a member of the SheKnows Community. The SheKnows editorial team has not edited, vetted or endorsed the content of this post.
Want to join our amazing community and share your own story? Sign up here.