I'm here with a Public Service Announcement for anyone who's hosting a party this holiday season: People love to eat with their fingers! Not only that, but compared to many foods, appetizers are often a snap to prepare. To help relieve your holiday party planning stress, here are ten delicious and (mostly) easy-to-make appetizers that will have your guests licking their fingers and exclaiming about what a good cook you are.

Could anything sound better than Spicy Baked Greek Feta? Heather from The Culinary Chase learned to make this from some friends who had just returned from Greece. (pictured above)
Dani from Dani Spies has a video to show how to make her Bruschetta with Roasted Peppers and Goat Cheese, which she says is one of her favorite "last minute, no brainer, go-to" appetizers.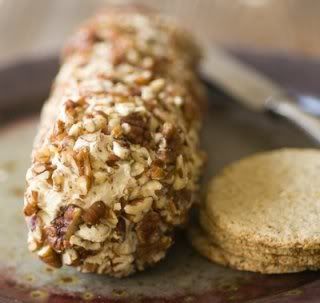 Lisa from Homesick Texan shares two recipes for cheese balls that she says are surprisingly easy to make and delicious enough to impress her sophisticated Aunt Betty. (pictured above)
Another cheesy appetizer I think sounds wonderful is the Gorgonzola Balls from Viaggi & Sappori.

Madeline from Everything Rachel Ray says she's never served Rachel's version of The Greatest of Garlic and Herb Spreads without someone asking for the recipe. (pictured above)
For a slightly different take on a spread with cheese and herbs, the Dill Onion Spread from Dianne's Dishes also looks delicious.

I'm a sucker for anything with beans, plus the holidays are a perfect excuse to splurge on chips, so Lydia's Black Bean Dip from The Perfect Pantry looks like something I couldn't pass up. (pictured above)
For another option for those tortilla chips, the Buffalo Chicken Dip at Frantic Home Cook looks delicious (and couldn't be easier!)

If you have serious foodies you need to impress, definitely make the Za'atar Bread with Feta and Parsley from Not Eating Out in New York. (pictured above) You can read that post to find out about Za'atar if you haven't discovered it yet.
And finally, another appetizer dish that's sure to impress is the Tofu Stuffed Pratha (Indian Bread with Tofu) from Cooking 4 All Seasons.
What's your favorite go-to appetizer recipe for the holidays? If you have a favorite holiday appetizer, please share the link or your actual recipe in the comments.
Kalyn Denny writes about food and at BlogHer.com and shares her passion for cooking at Kalyn's Kitchen. Kalyn's favorite easy-but-impressive appetizer would probably be Tuna Mousse or Cilantro Salsa Dip.
This is an article written by a member of the SheKnows Community. The SheKnows editorial team has not edited, vetted or endorsed the content of this post.
Want to join our amazing community and share your own story? Sign up here.