This article was written by a member of the SheKnows Community. It has not been edited, vetted or reviewed by our editorial staff, and any opinions expressed herein are the writer's own.
"When I was a little girl, I totally bought the fantasies of an old-fashioned Christmas. I wanted to go on sleigh rides and cut down our own Christmas tree. I wanted presents that looked like they were made by Santa's elves. I wanted to make sugar and gingerbread cut-out cookies and decorate them with all kind of fancy things." ~ Rah Rah Chow
"... But that was the 1960s and that stuff wasn't in vogue. Instead of sleigh rides, we took car rides around the neighborhood, admiring decorations that usually consisted of big fat Christmas lights and lit-up plastic Santas. Our tree was the same artificial one, year after year. My gifts, like the Barbies and the Easy Bake Oven and the Veronica doll with hair that grew, did not resemble anything elves could construct. And my mom made many different Christmas cookies, but cut-out cookies (either sugar or gingerbread) were way too much work for her." ~ read on and get the recipe for Cut-Out Cookies That Taste as Good as They Look from Rah Rah Chow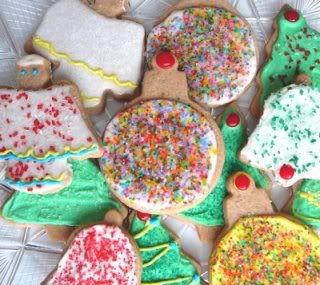 Photo by Rah Rah Chow
So just in time for holiday baking, here's a selection of recipes for cut-out cookies. Surely there's a cut-out cookie here to satisfy the fantasies of inner child and the necessities of a busy grown-up.
From Scratch ~ No-Chill Cutout Cookies "They bake up nice and flat but there is always one drawback to not using chilled dough: intricate edges lose some of their form in the oven, as the softer dough spreads more quickly. For that reason I'm not thrilled with the edges on my snowflake but a straighter cut, like the candy cane or a star, is just fine."
Whipped ~ Sour Cream Cut-out Cookies "... often the cookie cutter cookies look fun but don't taste much like anything. Thanks to the sourcream in the dough and almond extract and buttermilk in the frosting, these are a bit cakey and much more flavorful. One of the reasons I love buttermilk and sourcream in recipes is that it often yields a less "ultra-sugary" sweet treat."
From Scratch ~ Spice Cutout Cookies "It's an easy dough to roll and cut, although it's quite soft at first and needs a good chilling. I roll them thick and they bake up to a chewy cookie."

Photo by Alanna Kellogg
Just Call Me Suzy ~ Maple Sugar Cutout Cookies "This recipe is one of the most delicious sugar cookies I have ever made. ... I would say it is a cross between a sugar cookie and a gingerbread cookie. ... One of my favorite features of the dough was how easily it rolled out. Even the third and fourth rolling of the scraps were no trouble at all."
Baking Bites ~ Soft Cutout Christmas Cookies "Made with buttermilk, these cookies are soft and stay moist and fresh tasting for several days without getting too cakey or stale. They have a light vanilla flavor with a subtle tang from the buttermilk. The dough can be rerolled once or twice and holds it's shape well in the oven, though it does puff up a bit. ... And the most crucial point? They hold up well to decorating and actually taste much better with the icing and sprinkles."
Apartment Therapy ~ Best Cutout Sugar Cookie "The high quotient of butter makes this a very firm dough. That firmness makes these perfect cut-out cookies for children; if you roll the dough at least 1/4 inch thick children should have no problem cutting and picking up cookie dough shapes. The dough doesn't tear easily or get too soft like other more delicate cookie doughs."
Avenue Food ~ Oatmeal Cutout Cookies "These cookies ... are nubby, bumpy, and not the least bit delicate or dainty. They are not buttery and crisp in that melt-in-your-mouth sort of way, but are a wee bit hard at first bite—and then you get a pronounced oatmealy chew. But I find these hearts' lack of refinement rather refreshing. ... These cookies shout 'homemade'! (And there's nothing wrong with that.)"
Soul Fusion Kitchen ~ No Fail Sugar Cookies "The cookies will bring out your creative side. With a pallet of colors to choose from, anyone can customize the cookie from this receipe for any occassion. Cookie cutters are available in all sorts of shapes and there are companies out there which can customize a cookie cutter just for you."
What Smells So Good? ~ Sugar Cookies ... Healthy? "First up are some crispy, delicious whole-wheat brown sugar cookies. Ever-so-slightly crisp, they're deliciously caramel-flavoured and extraordinarily beautiful."
Half-Baked Baker ~ Dorie Greenspan's Soft Sugar Cookies "Dori's recipe makes a softer cookie that puffs up a bit more during baking. ...If you want a really nice soft sugar cookie, go with Dori's recipe."
Anne's Food ~ Pepparkakor "Pepparkakor is a very traditional Swedish Christmas cookie, but sold all year round. It's in fact so common that very few people bake their own anymore. There's even ready-made dough you can buy! (And that is a big deal in Sweden, since we normally don't have cookie dough. Definitely not like the US, where cookie dough is a delicacy of its own!) ... I really enjoyed making my own. The recipe is by Jan Hedh, a famous Swedish pastry chef, and was published in a recent cooking magazine. It looked like a very classic recipe, and I ended up with a nice and flexible dough that was fun to work with, and TONS of cookies."
Baking Delights ~ Best Sugar Cookies "These are easy to roll out. They are so easy to roll and cut that we used to have all of the kids from the kids church ministry come over and make them to sell to raise money for missions. If a cookie can withstand THAT it can with stand anything! These are great to leave out for Santa, they keep well (if they last that long), freeze well, and handle well."
Gluten-Free Girl ~ Gluten-Free Sugar Cookies "Even though I advocate finding joy in foods that are naturally gluten-free, it is the holidays. And I still like some traditions. No matter what, I still like roll-out sugar cookies, thick and threaded through with vanilla, cut into Christmas-tree shapes and frosted with buttercream frosting."
And you?
And you, what's your favorite recipe for cut-out sugar cookies? Leave a recipe or a link to a recipe in the comments!
BlogHer food editor Alanna Kellogg uses her all-time favorite cut-out cookies recipe to make Frosty Christmas Trees.