This article was written by a member of the SheKnows Community. It has not been edited, vetted or reviewed by our editorial staff, and any opinions expressed herein are the writer's own.
I'm someone who cooks constantly, and in my kitchen there's a huge assortment of gadgets, including electric things like a rotisserie, breadmaker, convection oven, food processor, blender, immersion blender, rice maker, and multiple crockpots as well as manual things like a grill pan, dutch ovens, a wok, steamer, food mill, and cast-iron frying pans. But one kitchen gadget I don't own and have never used is a pressure cooker.
Lately I'm becoming more and more curious about pressure cookers. My sister Valerie has several of them, and I know she uses one often when she's making dinner for her eight kids and time is of the essence. I don't have kids, but I know enough about pressure cookers to understand that they're used to cook foods much more quickly than usual, and I have a time shortage at my house too. The idea of cooking beans quickly without remembering to soak sounds appealing. I also like the way they can be used to tenderize inexpensive cuts of meat, sort of like a crockpot on steroids. I wouldn't be surprised if I end up buying a pressure cooker eventually, but before I do, I decided it might be fun to see what food bloggers have to say about them.
Maki from Just Hungry is obviously a pressure cooker fan. In a post called Pressure Cooker Love Maki tells about inheriting a pressure cooker and growing to love it. She says pressure cookers are perfect for vegetarians, and recommends it for beans, lentils, and brown rice.
Another good post about why pressure cookers can be useful comes from Start Cooking in a post titled Pressure Cookers - The Original Microwave. Here you can learn a bit about the history of pressure cookers, how they work, how they're designed to be safe, and why cooking in a pressure cooker is a good time-saver.

A Cowboy's Wife at My Wooden Spoon raves about the way the pressure cooker takes the work out of cooking and shows off her 30 Minute Beef Stew in a Pressure cooker (pictured above) to prove the point.
Kits Chow tells why she likes her pressure cooker even though she has lots of other pans, then shares a recipe for Braised Short Ribs the Pressure Cooker Way.

At Almost Turkish Recipes, Burcu shares the recipe for Pressure Cooker Steak (pictured above) that was a family favorite she couldn't resist even though she wasn't an enthusiastic red meat eater.
I am Gluten Free declares I Love My Pressure Cooker, and her recipe for Split Pea Soup with Herbes de Provence really does sound delicious.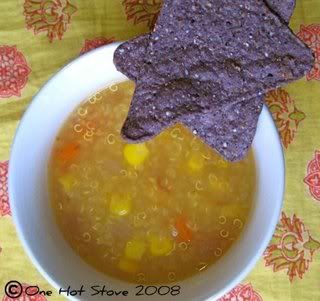 I notice a lot of Indian bloggers use pressure cookers, and Nupur from One Hot Stoves uses hers when she adapts another blogger's recipe for Corn Quinoa Chipotle Soup (pictured above.)
Here are a few more pressure cooker recipes I thought sounded great, if you're getting interested:
Creamy Coconut Rice Pudding from Cooking with Amy
Webmonkey Pressure Cooker Chili from Brownie Points
Mom's Chili Beans from Simply Recipes
Orange Scented Beet Salad from Veggie Queen Adventures (Edit - She has a Pressure Cooker Blog!)
Creamy Black Lentils from Hooked on Heat
Creole Black Eyed Peas from Fat Free Vegan Kitchen.
Not everyone is a fan though. The Frugal Cook tells Why I Don't Like Pressure Cookers.
What do you think about pressure cookers? Have you used one, and how did you like it? And if any BlogHer readers have good pressure cooker recipes to share, please leave a link or the recipe in the comments.
Kalyn Denny writes about food and at BlogHer.com and shares her passion for cooking at Kalyn's Kitchen, where a pressure cooker just might be in her future.