This article was written by a member of the SheKnows Community. It has not been edited, vetted or reviewed by our editorial staff, and any opinions expressed herein are the writer's own.
I am finally, finally back. We had a very challenging but overall very good summer and now the school year is looking really promising. A few adjustments, some more difficult than others, but overall I think we can handle it! And I've been making lunches and taking pictures of them, too.  So let's get started!
I'm lumping the first couple of weeks of school together because I didn't take a picture of every single lunch, and also because the first couple of weeks were short.
First day breakfast!
T had a happy little egg in a frame sunshine made with mustard and ketchup, grapes, cherries, and apples, and the little cutout piece of toast. She said the sun looked "creepy."
First day lunch
Shoyu veggie chicken with broccoli and carrots, more carrot letters on top and broccoli on the side, Scrabble Cheez-Its, peanut butter and all-fruit roll-up sandwich "chalkboard" in the top tier, and pineapple, cherries, cheese, and the rest of the all-fruit roll-up in the bottom.
Sandwich dumplings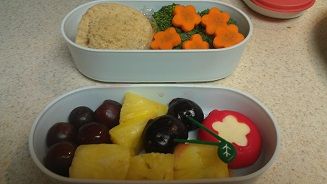 I wanted to play with making sandwich dumplings again, so these are PB&J. Broccoli and carrots join them in the top tier, then there are cheese, cherries, grapes, and pineapple in the bottom.
Veggie Meatballs 1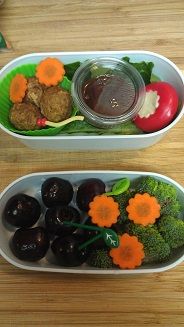 Veggie meatballs with a balloon pick, BBQ sauce for dipping, and cheese in the top, and broccoli, carrots, and cherries in the bottom. T said the balloon pick wasn't very realistic because "whoever heard of a brown balloon?" She ate it all though. :)
Veggie Meatballs 2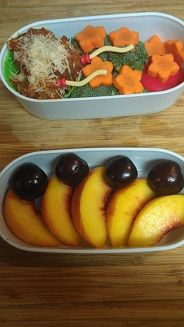 Veggie meatballs in marinara topped with some parmesan, broccoli, carrots, and cheese, and some really yummy local peaches and cherries on the bottom. Seriously, these peaches!!! One of these days I'm going to freeze some and have velvety, voluptuous peach goodness all year.
End of the week scraps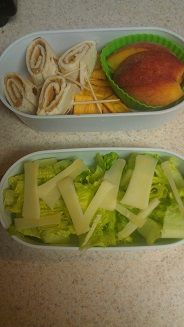 Peanut butter pinwheels, Scrabble Cheez-Its, and more really good peaches in the top, and caesar salad in the bottom (dressing packed in a separate container). Just kinda cleaned out the fridge with this one, so it's not very pretty. 
And that's it! Bento lunches for the first couple weeks of school! Hope you got some ideas!