I guessed it might be a hot topic when I asked this question on Twitter, "Food Bloggers, what's your favorite way to cook asparagus: quick boil, roast, grill, pan-fry, other?" Replies kept coming for hours, and by the time I counted results to write this post, forty food bloggers had weighed in (with one dissenting vote from A Spoonful of Sugar, who says everyone else can have her share of the asparagus, thank-you-very-much.) Now before you read on, what's your guess for the most-mentioned way to cook asparagus?
Turns out I was spot-on when I wrote about Roasted Asparagus Love at the beginning of asparagus season last year, because roasted asparagus was the winner (20 votes), closely followed by grilled asparagus (14 votes), then pan-fried (7 votes), broiled (4 votes), quickly boiled/blanched (4 votes), and shallow poached with butter (2 votes). Yes, the results add up to more than 40, since some people mentioned more than one method. Several people also reminded me that although people adore the thin asparagus stalks for looks, the thicker ones often have better flavor. Jennifer from Last Night's Dinner gave good advice when she said "for thicker stalks, grilled or roasted, for thin stalks, quick saute or blanched." Here's a bit more about each method and a few asparagus recipes that definitely seem worth a try.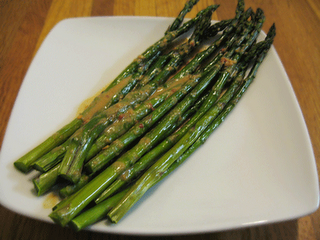 Photo of Roasted Asparagus with Peanut Sauce from Eat This.
ROASTED ASPARAGUS
Roasting asparagus "intensifies the flavor wonderfully" says Amy from Cooking with Amy, and no doubt that's one reason this method of cooking asparagus has so many fans. Roasting is also pretty foolproof; just toss the asparagus with some olive oil and roast until it's as done as you like it.
~Roasted Asparagus with Peanut Sauce from Eat This sounds like it would be wonderful. (pictured above)
~The simplest ever recipe for Roasted Asparagus from Playing House.
~How about Roasted Asparagus with Balsamic Browned Butter from Recipe Girl.
~Check my BlogHer post on Roasted Asparagus Love for links to several basic recipes for roasted asparagus and some wonderful variations.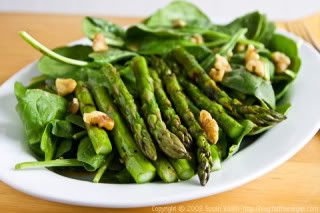 Photo of Grilled Asparagus and Spinach Salad from Fat Free Vegan Kitchen.
GRILLED ASPARAGUS
Everything that makes people love roasted asparagus is also true for grilled asparagus: it concentrates the flavor, it's easy, and the variations are endless. I'm guessing if every place in the world had a climate where you could grill during asparagus season, this choice might have been the winner.
~The Grilled Asparagus and Spinach Salad with Smoked Paprika Dressing from Fat Free Vegan Kitchen looks and sounds wonderful. (pictured above)
~There's another wonderfully creative recipe for Grilled Asparagus at Book of Yum, where she uses skewers to make asparagus "rafts" that are easy to turn on the grill.
~Gluten-Free in the Shaolin recommends "grilled, wrapped in bacon, with a little fresh mozarella." Now how could that taste bad?
~There's a fabulous post full of Asparagus Adoration at Green Gourmet Giraffe, featuring Grilled Miso Asparagus and a bunch of other asparagus recipes.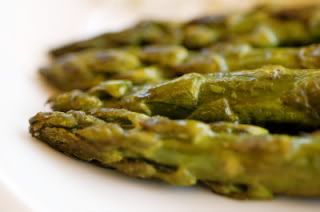 Photo of Buttered Asparagus from I'm Mad and I Eat.
PAN-FRIED ASPARAGUS and BROILED ASPARAGUS
Pan-frying and broiling are two more high-heat methods of cooking asparagus quickly, which keeps the asparagus flavorful in the same way roasting and grilling does.
~At I'm Mad and I Eat, CookieCrumb is hooked on Buttered Asparagus "No water. Just roll the spears around in a skillet of hot butter." (pictured above.)
~Picky Cook makes a delicious-sounding Ina Garten recipe of Asparagus and Sugar Snap Peas where the asparagus pieces and peas are pan-fried in olive oil, then sprinkled with sesame seeds.
~Lady Concierge casts her vote for "pan-fry with little to no oil."
~Cookthink has the skinny on Simple Broiled Asparagus.
~On Twitter, Jamie's Recipes says "I love asparagus with quick roast under the broiler. Still tender but has a nice roasted flavor."

Photo of Asparagus with Maple-Tahini Dressing from Karina's Kitchen.
QUICKLY BOILED/BLANCHED ASPARAGUS and ASPARAGUS SHALLOW-POACHED WITH BUTTER
When asparagus is cooked with water, it should be done quickly, and small, tender spears which wouldn't hold up to roasting or grilling are best for this method.
~The Asparagus with Maple Tahini Dressing from Karina's Kitchen sounds like a perfect blend of flavors. (pictured above.)
~An Asian twist on asparagus that sounds delicious is the quickly boiled and blanched Asparagus with Black Sesame Sauce from Just Hungry.
~From Anita at Married with Dinner comes a method for cooking Quick and Tender Vegetables poached in a small bit of water and butter, which sounds perfect for asparagus.
~One of my all time favorite methods for asparagus is this Perfect Asparagus from Simply Recipes, where the asparagus is cooked for a mere two minutes in boiling water, then dressed with olive oil, lemon zest, and parmesan.
(Thanks to all the bloggers who shared asparagus ideas with me on Twitter. It was fun for a while, then mid-afternoon Twitter became touchy, and started loading my replied sporadically, if at all. If I missed any great recipes due to Twitter hiccuping, please share in the comments! Also, anyone else with a great way to cook asparagus, please speak up as well.)
Kalyn Denny shares her passion for low-glycemic cooking at Kalyn's Kitchen. This year she kicked off asparagus season with Pan-Fried Asparagus Tips with Lemon Juice and Lemon Zest.
This is an article written by a member of the SheKnows Community. The SheKnows editorial team has not edited, vetted or endorsed the content of this post.
Want to join our amazing community and share your own story? Sign up here.