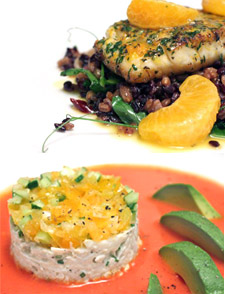 What sets fine dining restaurants apart from other eateries? I believe it's the attention to detail. From the point of arrival through the last crumb of dessert, a fine dining experience should impress. The building and interior design elements, tables, chairs, place settings, and even flowers will be thoughtfully chosen. The servers will be helpful, knowledgeable, and courteous. Certainly, the wine list will be carefully curated. Even the restrooms will include some special touches like pretty sinks or nice soap. And, of course, there's the food. In such establishments, every part of every dish is scrutinized, planned, and practiced before it's included in the menu. If there happens to be a tasting menu, you can expect the dishes included in it to be even more carefully designed since that meal as a whole is devised to progress smoothly from one course to the next delivering delight in each morsel.
Let me bring all of this to light with an example of a recent restaurant experience. I had visited this particular place before, but on the night I'm going to describe, I was there to celebrate and enjoy a big, special meal. We had made reservations and arrived on time. The entrance was warm, inviting, not too bright, and not too dark. The flooring, furnishings, and decor were all spotlessly clean and well-coordinated. We were shown to our quiet table in a corner where we found nice napkins and a small vase with an orchid. Our server arrived with water, and we let him know we intended to order the six course tasting menu with wine pairings for two. We relaxed into our seats and awaited the spectacle to come. First, we were served an amuse bouche which was made up of two parts. One was an incredible combination of a tiny piece of swordfish topped with a glistening, little cube of apple gelee and a crispy ring of fried shallot. It was one artfully constructed and delicious bite of food. The other was a play on a caprese salad in one bite. This was an early February evening, in North America, and being offered a fresh, little slice of tomato seemed odd, but I tried to ignore it as this was just one part of the amuse.
Our little plates were whisked away, and in no time our first course arrived. This course consisted of raw tuna, a chive puree, some ginger, and tiny, julienned pieces of fried plantain. Now, I love tuna. Fresh, raw, beautiful, gleaming, red tuna is a wonderful thing to eat, but… I wanted desperately to overlook what seemed like a careless use of an overfished species and enjoy the rest of the meal. Other courses included in season spinach and ruby red grapefruit, and everything was prepared flawlessly. Then, a few courses later, a dish arrived containing a sweet corn puree and a charred tomato. The date hadn't changed. This was still early February. At this point, I started to wonder just how carefully each and every part of the menu had been considered.
If you were in the position to meticulously plan every detail of every single element of a tasting menu, would you include tuna knowing the current state of seafood sustainability issues and mercury levels in tuna? Would you offer out of season items leaving the patron wondering where those ingredients came from at this time year? Wouldn't you rather highlight the best and freshest of the current season and ingredients that are plentiful and healthy and will continue to be so? If it's the attention to every last detail that makes a fine dining experience worth the expense, I'd like to suggest seasonality, sustainability, and responsible choices should be the first details considered.
lisa from lisa is cooking
This is an article written by a member of the SheKnows Community. The SheKnows editorial team has not edited, vetted or endorsed the content of this post.
Want to join our amazing community and share your own story? Sign up here.