Growing up in an Italian family, it was not unusual for my mother to make escarole with navy beans as a side dish. With this side dish, sometimes she would cook Italian sausage. Escarole with navy beans was always a favorite dish of mine. So today I decided to use my garden fresh escarole in a new recipe for escarole soup. I love escarole in chicken broth, a classic Italian escarole soup, but for my escarole soup I added something more than broth. My Escarole Soup with Chicken Sausage and Navy Beans was the result, and it was delicious!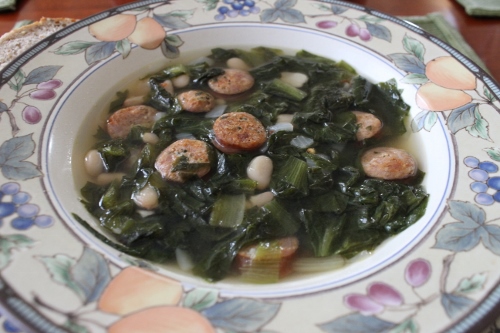 Image:  Courtesy of Jodee Weiland
The classic Italian escarole in chicken broth is usually eaten with a little grated Parmesan Reggiano cheese sprinkled on it. It's delicious and such a simple soup to make.
Read more at Learn from yesterday, live for today...
Enjoy,
Jodee Weiland
This is an article written by a member of the SheKnows Community. The SheKnows editorial team has not edited, vetted or endorsed the content of this post.
Want to join our amazing community and share your own story? Sign up here.