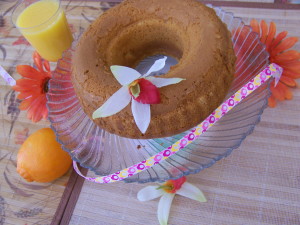 In our family, after August rests of the months are kind of filled with birthdays, anniversaries.This year, luckily my parents were here so we celebrated my dad's birthday. Few days before his birthday I came across this easy and tasty cake recipe on Rak's Kitchen  Now, I had to try this. Looking for some appropriate occasion. Honestly speaking, I do not need any occasion as such for Cake baking.  So, baked it for his birthday.
     It is a very easy cake and comes out very soft that you won't even realize that it is egg less. The fresh orange juice and orange zest make it great. Initially, my daughter was little skeptical thinking that it will taste too much orangy...:) but she loved. After coming back from school she said- "Aai, what have you baked..I can smell something goooood...:) is it orange?" And later she was asking everyone to guess the flavor..that means she liked it..:)
So here is the recipe:
Plain flour- 1 1/4 cups
Condensed milk- 1 cup minus 2 tablespoons
Butter or Oil (I used Butter)- 1/2 cup
Orange juice- 1/2 cup
Powdered sugar- 3 tablespoons
Baking powder- 1 teaspoon
Baking soda- 1/2 teaspoon
Orange zest- 1/2 teaspoon
Lemon juice- 1 teaspoon
Vanilla essence- 1 teaspoon
Method:
Pre-heat the oven to 350 deg. F.  Sieve flour, baking powder, baking soda.
Mix well the condensed milk, orange juice, softened butter, sugar, vanilla essence, lemon juice.
Take the sieved flour and in a bowl, pour the mixed liquid and mix well without any lumps, using the whisk.
Grate some orange peel in the batter and give it a mix. This is what we call orange zest.
Grease a baking pan,with butter and dust with some flour. Pour the prepared batter in the pan. Tap the pan gently once or twice to remove any big air bubbles.
Bake it to 45 minutes or until the toothpick inserted comes out clean. (the original recipe calls for 30 minutes but it took me 45 minutes)
Let it cool down for 5 minutes and then invert the cake over a wire rack and let it cool.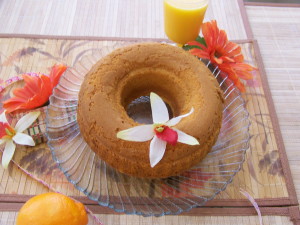 This is an article written by a member of the SheKnows Community. The SheKnows editorial team has not edited, vetted or endorsed the content of this post.
Want to join our amazing community and share your own story? Sign up here.