Easy Blueberry Bundt Cake Recipe
This blueberry bundt cake is very easy to make! It's a one-step cake - you just mix the ingredients, pour into the bundt pan and bake.  The result is loaded with blueberries and is simply delicious!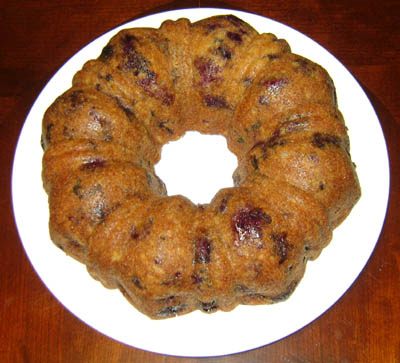 Ingredients:
2 eggs
1 cup sugar
1/2 cup canola oil
1 tbsp vanilla
1 cup lowfat plain yogurt
2 cups flour
2 tsp baking powder
1 tsp baking soda
2 cups blueberries (fresh or frozen)
Directions:
Preheat oven to 375F.
Grease the inside of the non-stick bundt pan (or spray with the cooking spray).
Whisk the eggs in a large bowl, then whisk in the sugar.  Whisk in the oil, yogurt and vanilla.
In a separate bowl, mix the flour with the baking powder and baking soda.  Add the flour mixture to the egg mixture.  Add the blueberries and stir until combined.
Pour the batter into the bundt pan.  Bake for 40 minutes.
This is an article written by one of the incredible members of the SheKnows Community. The SheKnows editorial team has not edited, vetted or endorsed the content of this post.
Want to join our amazing community and share your own story? Sign up here.