This article was written by a member of the SheKnows Community. It has not been edited, vetted or reviewed by our editorial staff, and any opinions expressed herein are the writer's own.
My mother recently posted this picture of brother Michael and me from 1975, I'd have been 7 and he was 3. Yes, we always loved to cook!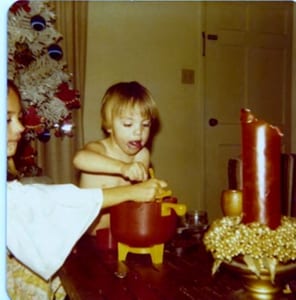 I loved that fondue pot!
Seeing that picture reminded me of the recent flak created by a 13 year old girl that is protesting the fact that Easy Bake Oven is only available in pink or purple and she fears her 4 year old brother will not want to play with it with his friends because of the colors.